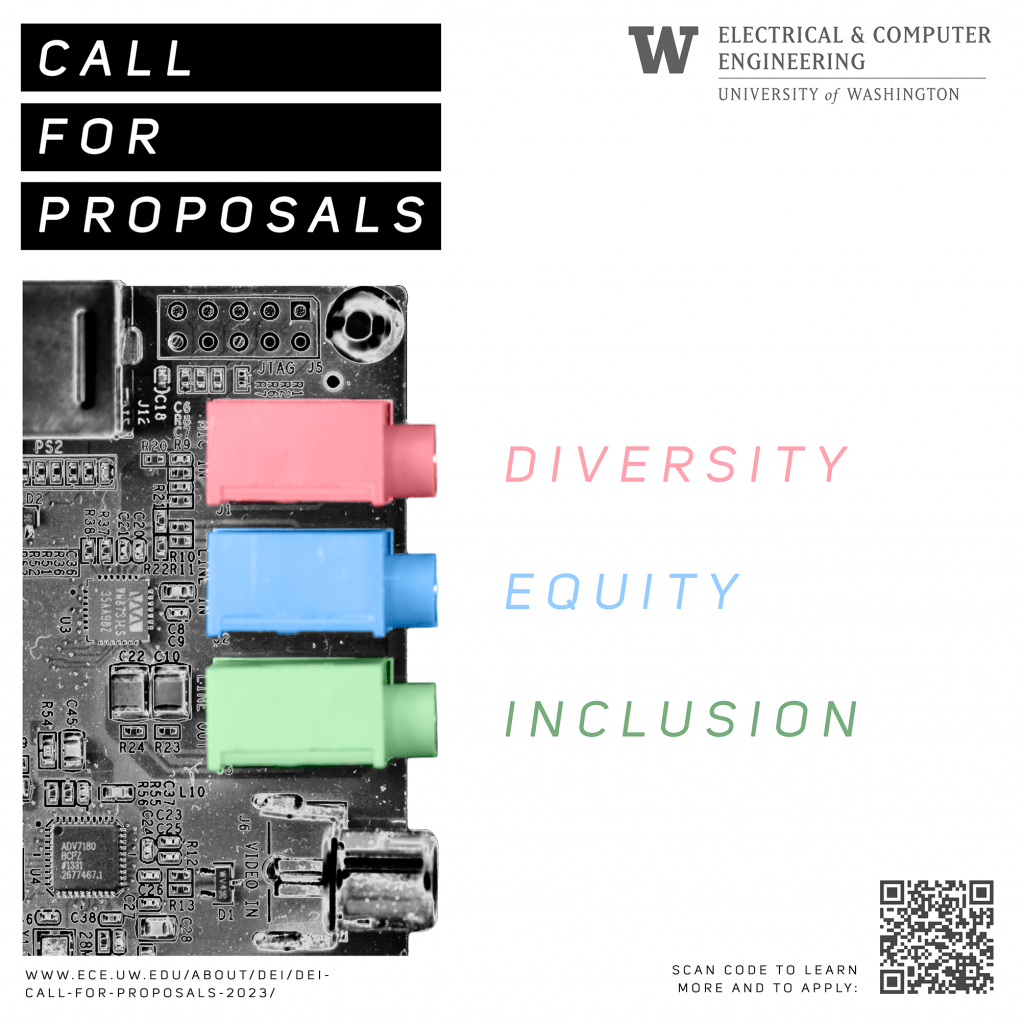 DEI Proposal Review and Advisory Committee (2022-2023):
Whitney Thomas, Shanti Garman, John Raiti, Sara Mouradian, Denise Wilson
Call for Proposals
The 2023 UW ECE DEI Small Grants Program supports efforts to improve diversity, equity, and inclusion in our ECE community. The 2023 program targets specific activities within our overarching vision and goals and invites ECE faculty, students, and staff to participate. Budgets up to $5,000 will be considered for projects ranging in duration from six months to one year. Proposals can be submitted beginning on January 1, 2023 and will be accepted through May 8, 2023. Notification regarding awards will be made on or before May 31, 2023 with most projects having start dates of July 1, 2023.
A complete proposal should be no more than two pages long (not including any references provided) and should include the following elements:
An abstract of up to 250 words describing how the proposed activity will support diversity, equity, or inclusion in UW ECE (proposed projects should specifically target one or more of these elements rather than generically reference DEI as a whole).
A concise project goal and a bullet list of realizable objectives that will help the project team to reach the goal and accompanying objectives.
A short background (using citations to the literature when appropriate) supporting how the project will be successful in supporting diversity, equity, or inclusion.
Project description describing relevant details of the proposed effort and a brief timeline of events and milestones for the project.
Team description describing who will be involved in the proposed effort including title and institutional affiliation. Project teams initiated by students must have a faculty or staff sponsor and clearly identify the role of the sponsor in ensuring successful completion of the project.
Detailed budget (not to exceed $5,000; no indirect costs are necessary)
Proposals will be evaluated based on their relevance to the 2023 focus areas as well as their feasibility and potential impact on UW ECE DEI.
The document above can be submitted through the following link:
Any questions regarding a potential project or proposal are welcome and can be addressed to Denise Wilson at chair_dei@ece.uw.edu.
---
Areas of Focus for 2023 UW ECE DEI Initiatives Program:
Collaborations with MSI Institutions
UW ECE seeks to support and advance meaningful and sustainable collaborations with MSIs (Minority serving institutions which include HSIs (Hispanic Serving Institutions) and HBCUs (Historically Black Colleges and Universities)) in the interests of enhancing the diversity of thought within our research and teaching efforts. Funds may be requested to host students from MSIs in research laboratories at UW, give seminars at MSIs in an effort to develop equitable research collaborations with faculty at those institutions, or similar efforts that provide opportunities for faculty, staff, and students in UW ECE to interact at a substantive level with faculty, staff, or students at MSIs.
Enhancing and Strengthening Civility in UW ECE
Proposals are invited for activities which build civility in the UW ECE community. Workshops, seminars, or other interactive activities that focus on contextualized behaviors (including role playing) to improve the ways in which we interact as a community are welcome. Funds may be used, in part, to support attending professional development events or classes that focus on civility or related topic to the extent that lessons learned will then be disseminated to others in the UW ECE community.  Other examples of fundable activities within this topic include inviting engaging guest speakers to host a seminar and speak to our community through multiple avenues (faculty meetings, research group meetings, etc.) or hosting social or game events that incorporate meaningful civility training and civility building activities.
Understanding DEI Issues within ECE
Projects that seek to further understand diversity, equity, and inclusion challenges within the ECE community, whether local (at UW), regional (Pacific Northwest), or national (U.S.) are invited for consideration.  Funds may be used to support interviews, focus groups, surveys, or similar activities that seek to identify actionable deficits in diversity, equity, and inclusion in the ECE workplace and classroom that merit attention and intervention.
Raising Awareness of Contemporary DEI Issues
Proposals are invited for activities that seek to raise awareness of what D, E, or I are and the ways in which we, as an ECE community can better speak to or act in the interests of addressing DEI challenges.  Funds may be used to support book clubs, journal article groups, seminars, and similar activities.