DEI Initiative Proposals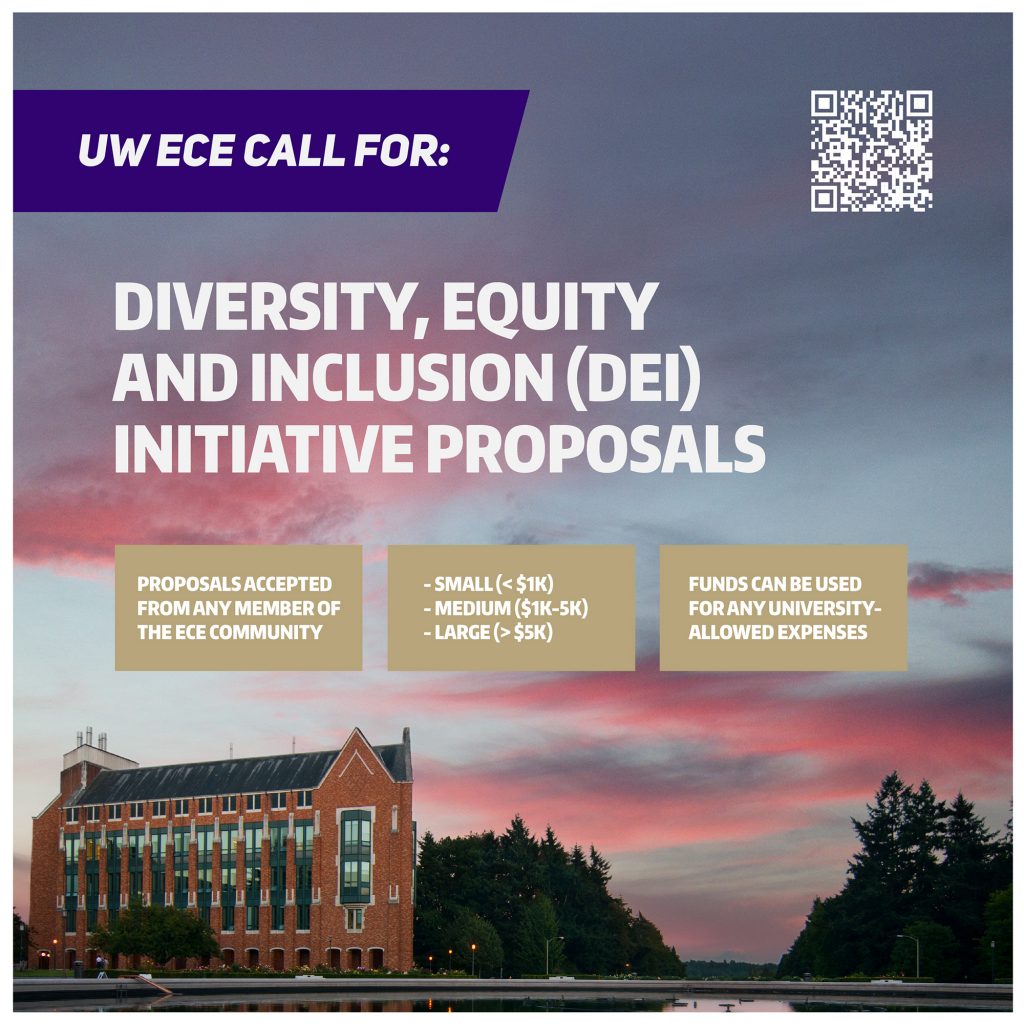 Part of ECE's commitment to advancing our diversity, equity, and inclusion goals involves devoting resources directly to our community members to do the work they think is important.  To that end, the Department has committed $25,000 to fund DEI Initiatives proposed by community members in 2022.  This web page provides information about how to submit a proposal and how proposals are evaluated, selected, and administered.  
Please contact the Associate Chair for DEI at chair_dei@ece.uw.edu with any questions.
Proposal guidelines
Proposals can be submitted by members of the UW ECE community, and can request funds for University-allowed expenses, including (but not limited to): supplies for outreach materials; stipends for students; training for students, staff, or faculty; catering or renting space for an event; travel expenses for an external speaker. If you have questions about allowable expenses, please contact the Associate Chair for DEI at chair_dei@ece.uw.edu.
Importantly, proposals can also be submitted to request ECE Department resources, including (but not limited to): staff support for hosting a meeting, workshop, or social event; staff support for creating and disseminating advertisements or marketing materials in print or digital media; space or classroom support for meetings or other activities.
We will consider proposals at three funding levels:  small, medium, and large.
small

proposals request less than $1,000

medium

proposals request between $1,000 and $5,000

large

proposals request more than $5,000
Note that UW ECE Department resources like staff support may have associated costs or constraints; if you have any questions about the feasibility and potential costs associated with a proposal or whether it will be regarded as small, medium, or large, please contact the Associate Chair for DEI at chair_dei@ece.uw.edu.
We are currently soliciting proposals for work that will be undertaken in 2022
If you would like to propose work that will extend significantly beyond that time frame, please contact the Associate Chair for DEI at chair_dei@ece.uw.edu.
Application, evaluation, and selection processes
To submit a DEI Initiative proposal, please use one of the two templates below. Note that proposals do not need to be extensive – we expect most proposals to be less than one page in length, and we encourage use of the web form for small proposals (less than $1,000).
Proposal application form
Proposal application doc

(Note: to submit a proposal using the application doc template, please email your proposal in PDF format to

chair_dei@ece.uw.edu

(if you use the application form instead, no additional email is required).
Proposals will be evaluated and selected for funding by the ECE DEI Advisory Committee, which consists of more than a dozen students, staff, and faculty who are committed to advancing our Department's DEI goals. This committee will create and apply evaluation rubrics for small, medium, and large proposals (since this is the first year we are soliciting proposals, these rubrics are still being developed – they will be made available when they are completed). The evaluation process will be different for small versus medium and large proposals:
small

proposals can be evaluated and approved asynchronously by the committee;

medium

and

large

proposals will be evaluated asynchronously but discussed and selected or rejected during a synchronous meeting.
The committee will meet once toward the end of each quarter to discuss medium and large proposals. Thus, you are welcome to submit proposals at any time, but if the proposal is medium or large you should generally expect to wait until the end of the quarter to learn the outcome of the evaluation and selection process.
Brainstorming and crafting proposals |  DEI Office Hour
Feel free to contact the Associate Chair for DEI (AC-DEI) at chair_dei@ece.uw.edu to discuss proposal ideas. The AC-DEI plans to organize a proposal-writing workshop – please check back here or monitor your email for updates!
Also, please feel free to join our weekly open discussions with the UW ECE Associate Chair for DEI (currently Sam Burden). Any UW student, staff or faculty are welcome to attend. 2 – 3 p.m. Fridays on Zoom (https://washington.zoom.us/j/92283734023)