When & Where
Tuesday, March 28, 2017
10:30 a.m.
105 EEB
Talk
The wireless industry has put out a vision of 5G enabling extreme mobile broadband with peak data rates of more than 10Gbps, ultra-low latency with end-to-end latencies of less than 1ms and ultra-reliability to support mission critical applications. Current cellular networks that have been designed for human interactions and latencies of 100ms will transform into networks designed for real-time machine-to-machine interactions. In this talk, I will introduce 5G, discuss applications enabled by 5G, where to find spectrum for 5G and present some recent results in indoor environments.
Speaker
Klaus Doppler (Nokia)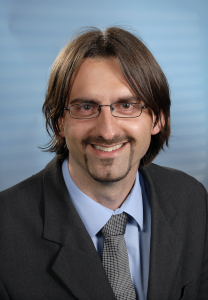 Klaus Doppler joined Nokia in 2002. He has contributed to Nokia's 4G, 5G and Wi-Fi research in multiple roles. Currently, he is heading the Connectivity Lab in Nokia Bell Labs and his research focus is on indoor networks. In the past, he has been responsible for the wireless research and standardization (4G, 5G, Wi-Fi) in Nokia Technologies, incubated a new business line, contributed to Nokia's radio technology vision and has led various research projects. He has pioneered research on Device-to-Device Communications underlaying LTE networks. Klaus received his Ph.D. from Helsinki University of Technology, Finland in 2010 and his MSc. in Electrical Engineering from Graz University of Technology, Austria in 2003. He has more than 75 pending and granted patent applications, and he has published 30 journal and conference publications and book chapters and received several inventor awards at Nokia.
10:30am–11:30am, Tue, Mar 28th, 2017