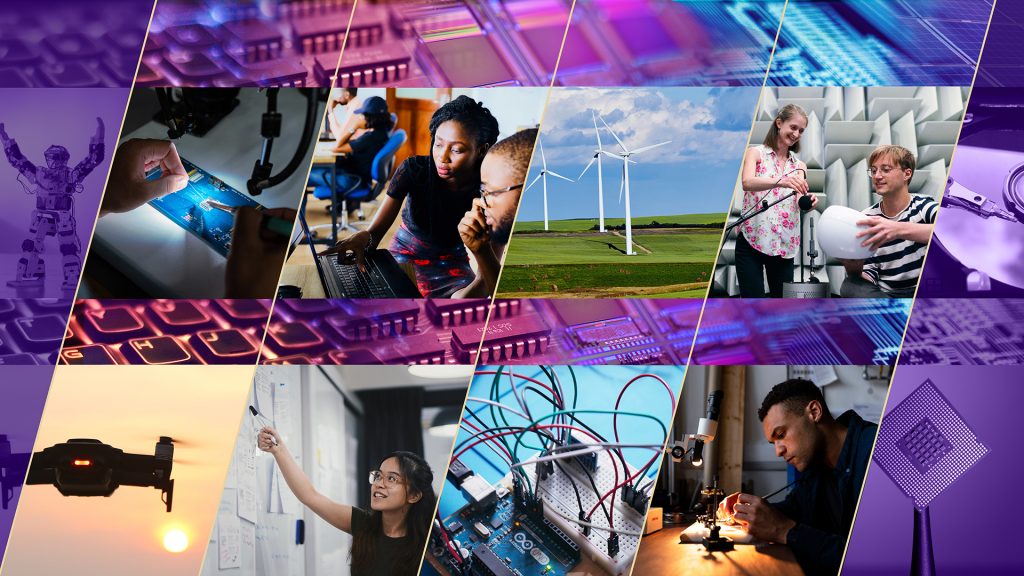 BSECE — Flexible, Adaptable, Versatile
Starting autumn quarter 2022, the University of Washington Department of Electrical & Computer Engineering will offer a Bachelor of Science in Electrical and Computer Engineering (BSECE). This new degree program provides students with increased flexibility in choosing their academic pathways and is highly adaptable to technological advances in popular research areas such as neural engineering, sustainable energy, quantum computing, data science, photonics and nanotechnology.
In the BSECE degree program, students can choose to gain broad knowledge of the field or increase expertise in specialized areas. Thanks to this added flexibility, students may have the capacity to pursue minors, double degrees, study abroad opportunities, research or internships that may enhance a student's educational experience — all while pursuing a degree that is highly sought after by employers.
Admissions
BSECE Transfer / Interest Changer Students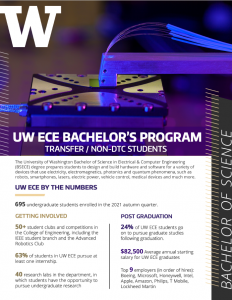 The BSECE program is capacity constrained. Applications are accepted from current UW students as well as freshman and transfer applicants. UW ECE enrolls students for the autumn quarter only.
BSECE DTC Students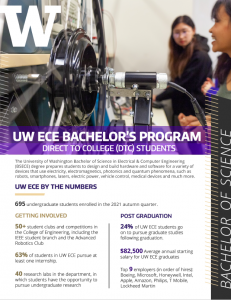 The primary path for undergraduates to earn a BSECE degree while spending all four years at the UW is 'Direct To College.' Students are admitted to the UW College of Engineering as freshmen, and then can be placed into electrical and computer engineering during the summer between their freshman and sophomore years.
Curriculum
The BSECE degree program prepares students for jobs in industry or for further graduate study. Students may choose to complete their degree by following one or more customizable pathways within the Department. Each of these pathways culminates in a capstone design project.
ABET Accreditation Information
The University of Washington Department of Electrical & Computer Engineering undergraduate BSEE degree program is accredited by the Accreditation Board for Engineering and Technology (ABET). The department is seeking ABET accreditation for the new BSECE degree during the 2025-2026 ABET review period, with an application to provide retroactive accreditation for BSECE degrees awarded beginning October 1, 2023 (academic year 2023-2024). We are confident that the new degree will be accredited by ABET.
Any BSECE degree awarded prior to autumn 2023 will not be eligible for ABET accreditation. Graduating with an unaccredited degree can have negative ramifications. For this reason, the department is strongly discouraging BSECE students from graduating prior to the 2023-2024 academic year. 
Instances where graduating with an ABET-accredited degree is essential include:
Students must graduate with an accredited degree to pursue licensure as a Professional Engineer. *

This is particularly relevant for work in the power industry. Utilities and consulting companies in this area expect their employees to become professional engineers.

Some registration and certifications require graduation from an accredited program as a minimum qualification.

Some job applications may require applicants to have graduated with an accredited degree.
Read more about why ABET accreditation matters.
*For BSECE degrees granted prior to the 2023-2024 academic year, and students who may need accreditation for licensure as a Professional Engineer (PE), the degree can be evaluated, for a fee, by NCEES Credentials Evaluations to facilitate the licensure process. In this and similar cases, NCEES evaluation will enable PE licensure with a non-ABET accredited degree.
Please see full details at:
Get Your Professional Engineer License by Exam or Comity
Tuition, Fees and Funding
Tuition and Fees
Tuition rates are established by the UW Board of Regents at the end of spring quarter. Complete tuition and fee information is available on the Office of Planning and Budgeting website. The total costs of full-time undergraduate tuition and fees are for one quarter.
Scholarships
Several types of scholarships are available to all UW ECE undergraduate and graduate students. Below are current resources and links:
Financial Aid
The UW participates in both federal and state financial aid programs. Information on grants, loans and other forms of financial assistance is available from the Student Financial Aid Office.
Information Sessions
Is Electrical and Computer Engineering the right major for you? UW ECE holds monthly information sessions where advisers provide information on admissions, curriculum, electrical and computer engineering as a profession and more.
When and Where