UW ECE's Engineering Innovation and Entrepreneurship (ENGINE) capstone program develops students' skills in collaborative systems engineering and project management, while supporting a thriving  culture of innovation at the UW and within the local community through industry partnerships and student mentorship.
---
About ENGINE
The ENGINE program was created to enable students to work in teams on industry sponsored projects. Developed in 2015 as the first entrepreneurial system design course of its kind in the department, the option is designed to develop students' skills in innovation, systems engineering and project management. UW ECE is a leader in entrepreneurship efforts across campus, with more start-ups than any other department, and Reuters ranked UW as the #1 public university in the world for innovation in 2015. The ENGINE program offers select companies an opportunity to benefit from the vibrant innovation culture at UW ECE.
ENGINE's Impact
From student success to global development, the ENGINE program's impact is far-reaching.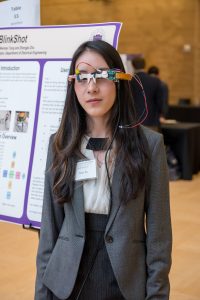 Students gain real-world experience, positioning them for a future of success.
Industry partners enhance their company's vision and productivity through UW ECE's world-renowned innovation culture and student collaboration.
The projects span several research areas for global impact, addressing health, the environment, security, and more.
The companies that engage with the ENGINE program are native to Washington State, boosting the local economy.
Skilled students provide the community with a valuable workforce for future growth and development.
ENGINE's Growth
Although this is only the program's sixth year, ENGINE continues to grow each year.
Over 1,200% growth in the number of projects since the 2015-2016 academic year.
Nearly 3 times the number of companies since the 2015-2016 academic year.
Over 20 times the number of students since the 2015-2016 academic year.
Over 40% of UW ECE's graduating class participate in ENGINE.
On average, each company submits 1.3 projects for students to work on, with the largest outside company submitting 4 projects.
Top Company Participation
High-Impact Projects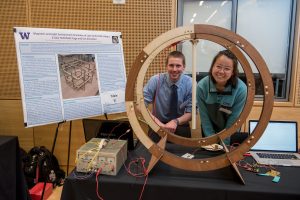 Resources for Industry
Innovation Partners benefit from the outstanding variety and depth of research at UW ECE.
For additional information on an industry partner's role in ENGINE, click here.
Resources for Students
Courses
The ENGINE capstone is comprised of the following required courses:
Undergraduate Students: EE 497 (4 credits) taken in Winter and EE 498 (4 credits) taken in Spring
Graduate Students: EE 598B (4 credits) taken in Winter and EE 598 section TBD (4 credits) taken in Spring
There is an optional 2 credit course offered in Autumn, which gives students a head start on projects and groups. This course is not required but encouraged.
Undergraduate Students: EE 496
Graduate Students: EE 598B
A poster presentation via a Capstone Showcase will happen at the end of Spring.
---
Who can register?
The ENGINE capstone is open to undergraduate students in their final year and any graduate student that wishes to take it as an elective. Priority in project assignments will be given to graduating undergraduate students.
Undergraduate Students: An official graduation application should be on file with advising. If you do not have a graduation application on file and are interested in taking this capstone, you can apply for graduation under the "Forms and Links" section below. If you are unable to apply for graduation and are interested in this capstone, please contact an ECE undergraduate advisor.
Graduate Students: You can register for ENGINE at any time during your degree, but keep in mind it is a 2 quarter commitment (Winter/Spring) with an optional Autumn course. We recommend you talk to the instructor if you have any questions.
How to register
Undergraduate Students
Fill out the form found in the "Forms and Links section" to request an add code to register. ECE Advising will review your request to confirm you have a graduation application on file and are eligible to take the ENGINE capstone. If you are eligible, ECE Advising will email you an add code. 

Find the course SLN number for EE 497 in the Winter time schedule. 

Register for EE 497 using the provided add code. 
Graduate Students
Find the course number for EE 598B. The course number will always be a special topics section for graduate students, which is joint with the undergraduate course number.
Register (no add code required).
---
Projects
Students had the opportunity to learn about available industry-sponsored projects at Pitch Day, which was held at the HUB, North and South Ballrooms on November 16th from 4:300-7:00 p.m. The project quad-charts can be found here. 
To participate in ENGINE, you must rank the projects and submit your resume and transcript via https://www.engr.washington.edu/industry/capstone-projects/projects  
The priority deadline for ranking is midnight Monday, November 27th. 
---
How the ENGINE capstone counts towards degree requirements
Undergraduate Students:
EE Degree:

Depending on a student's concentration, EE 497/498 may be the required capstone course. 

For concentrations that list a different class as the required capstone, students may substitute EE 497/498.

ECE Degree:

EE 497/498 will satisfy the ECE capstone requirement.
Certain pathways may have recommended capstones, students may substitute EE 497/498.
Graduate Students:
EE 598 will count towards the EE 5XX numerically graded coursework requirement (18 cr for Ph.D. and 20-24 cr for M.S.).
Forms and Links
Contact
For additional information on the course or how our industry partners can get involved, please contact: capstone@ece.washington.edu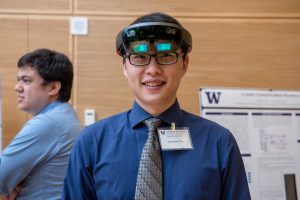 View the past ENGINE capstone projects here!