This page contains links to information and resources about the novel coronavirus and COVID-19 for UW faculty, staff, students and community members, and serves to highlight some of the COVID-19 related research efforts that several of our ECE faculty are currently working on at the UW and with industry partners.
University of Washington Resources
UW College of Engineering Resources
UW CoE Coronavirus Information and Related News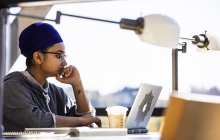 Job searching during COVID-19 -advice from Career Center @ Engineering director Gail Cornelius on how students can navigate the near-term engineering job market.
At-Home Learning Resources from the Clean Energy Institute – provides clean energy learning resources for use by K-12 teachers, students and parents.
How you can help
If you are interested in providing financial support for the Electrical & Computer Engineering department's COVID-19 research efforts, click
here.
For other donations or gifts to support the UW's COVID-19 efforts, such as the
UW COVID-19 Emergency Student Fund
, the
UW Medicine COVID-19 Response Fund
& equipment donation, or the
Husky hunger relief fund
, please click
here
.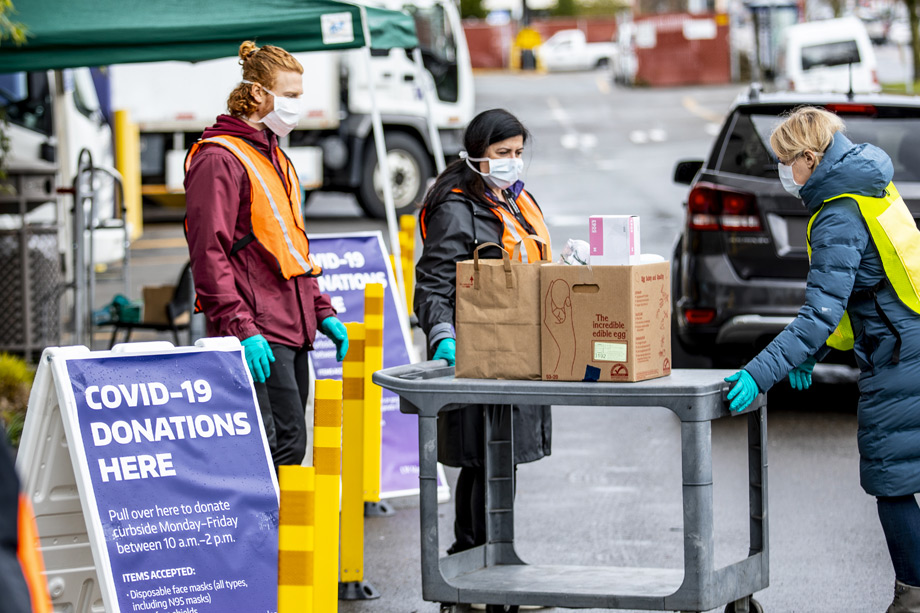 The
CoronaSurveys project
is a collaborative endeavor from several universities and research institutions (
team members
), including ECE professor and Associate Chair of Advancement,
Payman Arabshahi.
Data about COVID-19 cases is collected via anonymous open surveys (
all the data collected is openly available
). You can help by regularly completing the anonymous survey at
coronasurveys.org
.

UW ECE Faculty Research on COVID-19
Testing and Therapeutics
ECE professor and department chair
Eric Klavins
is involved in two large DARPA-funded projects, one to create protein therapeutics, and two to build a rapidly deployable molecular biology field lab for testing. Visit
http://klavinslab.org/
for more information.
ECE professor, NanoES Institute director and Washington Nanofabrication Facility director
Karl F. Böhringer
is working with
Matchstick Technologies
, a
UW CoMotion
startup, to utilize WNF equipment to prepare components for their
PIXUL
(PIXelated ULtrasound) instrument. This instrument is currently being evaluated for high throughput COVID-19 diagnostic testing. PIXUL, Matchstick's premier product, is a tool that processes each and every well of a 96-well microplate consistently and quickly. PIXUL was designed completely from the ground up to provide the end user with an easy to use tool that is simple to set up, simple to use, and generates consistent results day in and day out.
Ventilator Technology
ECE professor
Blake Hannaford
and UW ME Ph.D. student
Andrew Lewis
are working on a dynamic new COVID-19 ventilator technology project as part of a coordinated effort with PATH Foundation, UW Medicine, GIX and several other UW units. The projects also involves a team of external ventilator experts and several undergraduate UW students.
Geographic Disease Tracking
As part of his current Office of Naval Research (ONR) funded project, ECE professor Les Atlas and his team are working on a COVID-19 "weather mapping" project using results from analogous problems in acoustic and radar tracking to identify COVID-19 geographic direction of transmission. More details to follow.
Contact Tracing
Working with the Allen School of Computer Science & Engineering and Microsoft Research, ECE adjunct associate professor
Sham Kakade
has created a COVID-19 contact-tracing app. More details to follow.
Disease Monitoring and Accurate Screening
Researchers in the
UbiComp Lab
led by Allen School and ECE professor
Shwetak Patel
developed a smartphone-based system called RDTScan that uses computer vision techniques to assist the user in capturing a high-quality image of their completed test, combined with an algorithm that automatically analyzes the result. This improves the accuracy and consistency of test results while also enabling researchers and public health officials to gather data about community-level disease prevalence. After initially focusing on infectious diseases such as malaria and influenza, the team is currently building out a new open-source
RDTScan library
that will enable developers to extend these capabilities to new COVID-19 RDTs as they come onto the market. The development team can be reached at RDTScan(at)cs.washington.edu.
Professor Patel is also developing a smartphone-based app for monitoring patient coughs — a frequent symptom of COVID-19 — to aid patient recovery and to identify potential new cases of the disease. The project, which is a collaboration with clinicians at UW Medicine and Seattle Children's Hospital and funded by the Bill & Melinda Gates Foundation and National Institutes of Health (NIH), builds on the lab's previous work on
CoughSense
and will employ a combination of the phone's microphone and an algorithm capable of distinguishing coughs from other sounds to measure their frequency. The team is in discussions with the U.S. Centers for Disease Control about the project, which aims to alleviate capacity pressures on the health care system by enabling providers to remotely monitor the condition of patients recovering at home. The app could also be used to monitor the condition of persons under investigation (PUI) who have had contact with confirmed cases but have not yet begun displaying symptoms. The researchers are currently inviting people to participate in an
online study
collecting human coughs and other vocalizations to refine the algorithm that powers the app. For more information, see coverage by
UW News
,
Slate
,
PBS NewsHour
, and
KING5 News
.
---
UW ECE News on COVID-19
Wyze donates 1,000 cameras to UW ECE as part of their Wyze in Response effort. Read more here.
---
Other resources
General Resources
The UW Office of the Provost's list of resources
Seattle Times page, updated periodically with new resources
Health
Waived UW Health Fees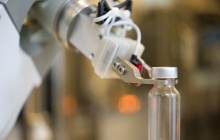 Mental Health
Free Remote Counseling and other mental health resources
Website to support mental health during COVID-19 crisis: www.virusanxiety.com
Physical Health
Peloton – free, no equipment required workout classes for 90 days with the app
Down Dog Yoga app, now free for students and teachers until July
Software
UW IT – Adobe Creative Suite temporary home licenses
Finances / Logistics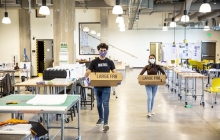 Guidance from COE Career Center on the job market/internships in COVID-19
List of critical jobs at UW that are still hiring
UW Student Technology Loan Program
Enterprise Car Rental Assistance
U Haul Storage/Move Out assistance for students
T-Mobile free unlimited data and help with phone plans