UW ECE Research Showcase 2021
Thursday, March 11  |  4:00 – 6:00 p.m. (PST)
Our 5th annual UW ECE Research Showcase features cutting-edge research projects from our very own electrical and computer engineering graduate students. You'll have a chance to review their posters, speak with the students and their advisers and learn more about the exciting projects underway across the various labs in the UW ECE department. The Research Showcase is also a perfect opportunity for visiting prospective students to learn more about the department's research.
This year we have once again elected to hold the event online per state COVID-19 guidelines. Students will be assigned to virtual 'tables' with their posters where you can pop in, view their work and ask questions (just like in-person, but without the crowds and from the convenience of your homes). We look forward to seeing you there!
Check out this year's student research project posters below! Open the PDF and click on an individual project to view full-sized poster.  Download PDF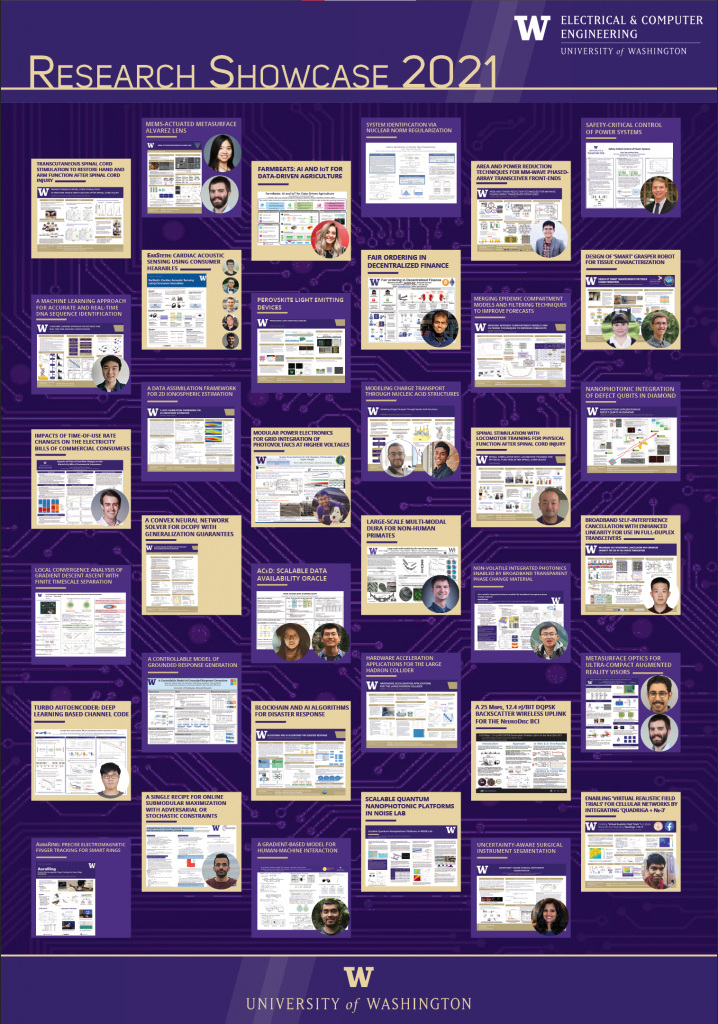 ---
UW ECE Research Day 2020 – virtual poster exhibit
Check out the interactive poster program below to view individual research projects in more detail!
(Click on a project title or abstract to see a PDF of their poster. For best results, use Chrome or Firefox browsers.) PDF not displaying? – Click Here
---
ECE Research Day is the department's premier event for students to showcase the exciting research projects they are working on in labs and groups across all areas of ECE. This is the fourth year that we have offered Research Day at ECE. We created this event as a way to allow our students to present top research in a variety of areas with large-scale societal impact.
The topics covered are ambitious and impressive. They include A.I., medical device technologies, power and energy, transportation, the environment, wireless communications and many more. We have projects that present research on the use of spinal cord stimulation to restore hand functions, walking, and other mobility issues following spinal cord injuries. Other projects cover new metasurface lens designs for creating more compact optical systems for augmented reality visors and a number of other purposes.
We would like to congratulate the students and their advisors on developing these excellent projects that are here on display, and thank you for sharing your research with us. Thank you to our industry friends for your valuable partnership and we look forward to seeing our relationship continue to grow.