2023 ENGINE Showcase
Thursday, June 1, 2023   |   5 – 7 p.m.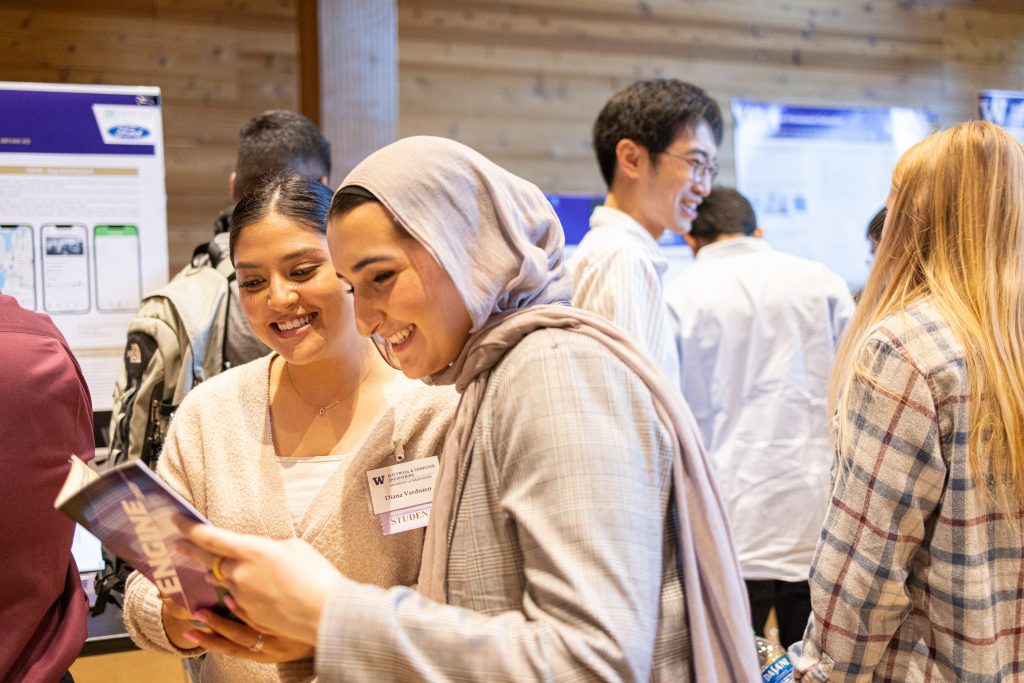 The Engineering Innovation and Entrepreneurship (ENGINE) program is the culmination of a student's electrical and computer engineering education. The program provides a unique opportunity for students to develop skills in collaborative systems engineering, project management, and most importantly, working in teams on real-world problems from industry-sponsored projects.
This year's showcase event was held in person on June 1, 2023 in the UW Intellectual House, with student panelists presenting and discussing their projects and posters with many industry partners and members of the general public in attendance.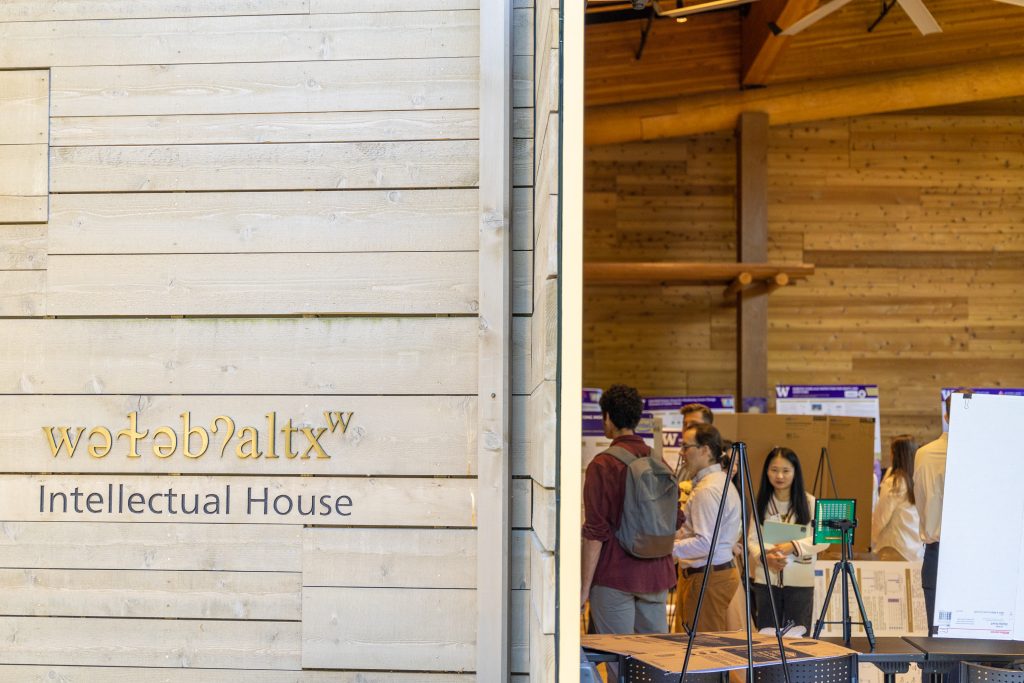 Check out photos from this year's ENGINE Showcase! 
Check out the ENGINE 2023 program above or view it in your web browser here!
2023 ENGINE Winning Teams
Teams are pictured with ENGINE donor, Ray Kanemori; UW ECE Associate Professor and Associate Chair for Education, Payman Arabshahi; and UW ECE Professor and Chair, Eric Klavins.
First Place (tie)
An Optoelectronic Closed-Loop Control System for RF Amplifiers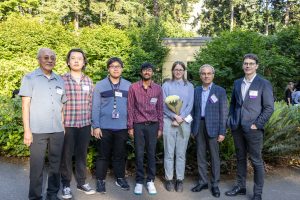 Sponsored by Access Laser
Students (listed alphabetically): Raymond Huang, Anastasiya Makarevich, Hongming Ping, John Velpugonda
Faculty Adviser: Sajjad Moazeni
Industry Advisers: Christopher Mau, Shahab Shahdoost, Iris Tsai

Digital Companion for Chronic Disease Patients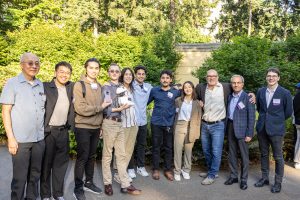 Sponsored by Novo Nordisk
Students (listed alphabetically): Sajjad Atabi, Valerie Chan, Ishan Dane, Zongjin Li, Mark Long, Evan O'Neill, Jin White
Faculty Adviser: Kim Ingraham
Industry Adviser: John Cavenari

Second place
Deep Learning Based Localisation for RNA Spatial Transcriptomics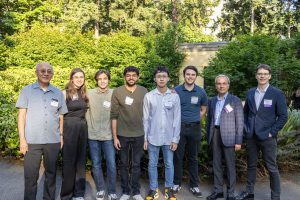 Sponsored by Nanostring Technologies
Students (listed alphabetically): Pavan Kumar Anand, Michael Bargenda, Shreemit Garimella, Kyle Herbruger, Meghan Riley Schmidt, Zhenghang Wang
Faculty Adviser: Georg Seelig
Industry Adviser: John Chandler

Third place
Jetracer Soccer League: Autonomous Soccer Playing Agents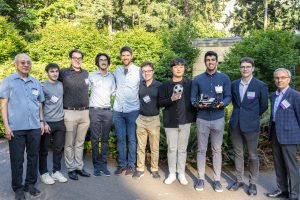 Sponsored by Lockheed Martin
Students (listed alphabetically): Jacob Bakhshian, Dylan Imayama, Andrew Kim, Nick Khormaei, Eric Ly, Ara Vardanyan
Faculty Adviser: Jeffrey Herron
Industry Advisers: Matt Nguyen, Daken Starkenbur, Pete Sulcs, James Waltner

2023 ENGINE Showcase Projects
TEAM 1: Battery Electrical Vehicle Range Estimation | Sponsored by PACCAR
Poster | Video
TEAM 2: How to Play Nice in the Sandbox | Sponsored by BECU
TEAM 3: Smart Design Database | Sponsored by AvtechTyee
Poster | Video
TEAM 4: Digital Medication Management | Sponsored by Novo Nordisk
Poster | Video
TEAM 5: Anomaly Detection for Solar PV Modules Inspection Using IR Thermography | Sponsored by Fluke
TEAM 6: Jamestown S'Klallam Tribe Community Resiliency Center | Sponsored by Jamestown S'Klallam Tribe
TEAM 7: Battery Scheduling for Carbon Reduction | Sponsored by GE Digital
TEAM 8: Radar-Cued Camera Data Collection System | Sponsored by Echodyne
TEAM 9: FPGA System for RF Power Supply Control | Sponsored by UW Medical Cyclotron Facility
TEAM 10: An Acoustic Beam Forming Device for Personalized Audio Experiences | Sponsored by UW DXARTS
TEAM 11: Base Station for Social Distancing Sensor | Sponsored by Alexander Mamishev
TEAM 12: Design a Building Electrification Demonstration Vehicle | Sponsored by Seattle City Light
TEAM 13: Electronically Steerable Ultra-Wideband Antenna | Sponsored by National Security Innovation Network / US Army Space and Missile Defense Command
Poster | Video
TEAM 14: Resilient Power for Jefferson County Emergency Management, Sheriff, and 911 Center | Sponsored by Jefferson County Department of Emergency Management 
TEAM 15: Power for a Resilient Fairchild Airport | Sponsored by UW Clean Energy Institute
Poster | Video
TEAM 16: Transmission System Hosting Capacity Map | Sponsored by Puget Sound Energy
TEAM 17: Neural Architecture Design for Human Detection | Sponsored by Amazon
Poster | Video
TEAM 18: Chameleon: An Electrical Musical Instrument Platform | Sponsored by UW ECE
TEAM 19: Prioritizing and Harvesting Excess Solar Power | Sponsored by PATH
Poster | Video
TEAM 20: Wireless Embedded Sensor Monitoring | Sponsored by National Security Innovation Network / Naval Surface Warfare Center
Poster | Video
TEAM 21: Marine Range Estimation Calculator for EV Systems | Sponsored by Photon Marine
Poster | Video
TEAM 22: Analyzing Airplane System and Security Logs for Context Awareness | Sponsored by Boeing
Poster | Video
TEAM 23: Data Insights Application for Obesity​ | Sponsored by Novo Nordisk
TEAM 24: Photorealistic Synthetic Image Generation​ | Sponsored by RadiusAI
TEAM 25: MBSE Threat Trees​ | Sponsored by Boeing
TEAM 26: Device Movement Detection​ | Sponsored by Amazon
TEAM 27: Machine Learning for Extreme Traverse Lunar Explorer​ | Sponsored by NASA Jet Propulsion Laboratory
TEAM 28: Automation of Dash Tester Connections​ | Sponsored by PACCAR
Poster | Video
TEAM 29: Making Electric Vehicle Charging Fun​ | Sponsored by Ford and Envorso
TEAM 30: Neuro-mechanical Interactive Simulation Platform for Caenorhabditis elegans​ | Sponsored by NeuroAI Lab
Poster | Video
TEAM 31: Robotic Fuselage Inspection for Dents and Scratches | Sponsored by Airbus Robotics
TEAM 32: JetRacer Soccer League: Autonomous Soccer Playing Agents | Sponsored by Lockheed Martin
TEAM 33: An Optoelectronic Closed-Loop Control System for RF Amplifiers | Sponsored by Access Laser
Poster | Video
TEAM 34: Flight Crew Audio Soundspace | Sponsored by AvTechTyee
Poster | Video
TEAM 35: Deep Contact Graph Routing for Lunar Operations | Sponsored by UW Sensor Systems Lab / NASA
TEAM 36: IoT position application of in-home robots | Sponsored by Amazon Lab126
TEAM 37: Bluetooth Converter Module with Integrated GPS | Sponsored by Sagetech Avionics
TEAM 38: Digital Companion for Chronic Disease Patients | Sponsored by Novo Nordisk
TEAM 39: Intertidal Sensor Array for Monitoring Ocean Change Stressors in Oyster Farms | Sponsored by National Oceanic and Atmospheric Administration (NOAA) and UW Fisheries
TEAM 40: Application for Early Alzheimer's Disease Diagnosis | Sponsored by Novo Nordisk
TEAM 41: Driver Classification | Sponsored by PACCAR
TEAM 42: Autonomous Self-Driving Wheelchair | Sponsored by Cyberworks Robotics
TEAM 43: Navy Requirement Markup Language | Sponsored by National Security Innovation Network / US Navy 
TEAM 44: Augmented Reality Cell Site Visualization App | Sponsored by T-Mobile
TEAM 45: Machine Learning for Lunar Multi-Static Ground Penetrating Radar | Sponsored by NASA Jet Propulsion Laboratory
TEAM 46: Machine Learning for Smart Space-Based Radiation and X-Ray Spectrometer Instruments | Sponsored by NASA Jet Propulsion Laboratory
TEAM 47: Platform Architecture Optimization using Insights from User and Processor Data | Sponsored by Intel
TEAM 48: Deep Learning based Localisation for RNA spatial transcriptomics | Sponsored by NanoString Technologies
Poster | Video
TEAM 49: Mixed-Precision Block QR Decomposition on GPU | Sponsored by Amazon
TEAM 50: Characterizing and Optimizing Quantum Gates | Sponsored by IonQ
Poster | Video
TEAM 51: Integrate automatic oracle synthesis into QDK for resource estimation | Sponsored by Microsoft
Poster | Video
TEAM 52: Quantum Resource Estimation of Arithmetic Primitives | Sponsored by Microsoft
Poster | Video
TEAM 53: Quantum Message Passing Algorithm Implementation | Sponsored by Pacific Northwest National Laboratory
Poster | Video
TEAM 54: Error Robustness of Quantum Adiabatic Algorithms | Sponsored by UW ECE
Poster | Video
TEAM 55: Polarization of 14N nuclear spins near nitrogen vacancy centers in diamond through excited level anti-crossing | Sponsored by UW ECE, Quantum Technologies Training and Testbed Lab
Poster | Video
TEAM 56: Modifying Crystal Symmetries in Quantum Materials via Shear Distortion | Sponsored by UW Physics
Poster | Video
TEAM 57: Computational and Experimental Exploration of NV− Qubit Processors Using Quantum Optimal Control Theory | Sponsored by UW ECE, Quantum Technologies Training and Testbed Lab
Poster | Video
TEAM 58: Implementing an Accordion Lattice to Create Tunable Vertical Spacing in a Kagome Lattice Experiment | Sponsored by UC Berkeley
Poster | Video
TEAM 59: Cavity-Modulated Quantum Control of Chemical Reactions | Sponsored by Pacific Northwest National Laboratory
Poster | Video
Previous ENGINE Showcases
2022 ENGINE Showcase
2022 ENGINE Showcase Projects
2022 ENGINE Winning Teams
2022 ENGINE Showcase Photos
2021 ENGINE Showcase virtual event
2020 ENGINE Showcase virtual poster exhibition
2019 ENGINE Showcase
2018 ENGINE Showcase
2017 ENGINE Showcase