Academic Student Employee Hourly Pay Rates
Academic student positions are covered by the contract between the UW and the United Auto Workers (UAW). For all other student employment positions, UW Compensation establishes compensation requirements in accordance with University policy and as described on UW HR's Student Employees web page.
Student employees must be paid at least the Washington State minimum wage.
The following pay rates apply to hourly academic student employee positions within the Department of Electrical & Computer Engineering (UW ECE). Click to view PDF.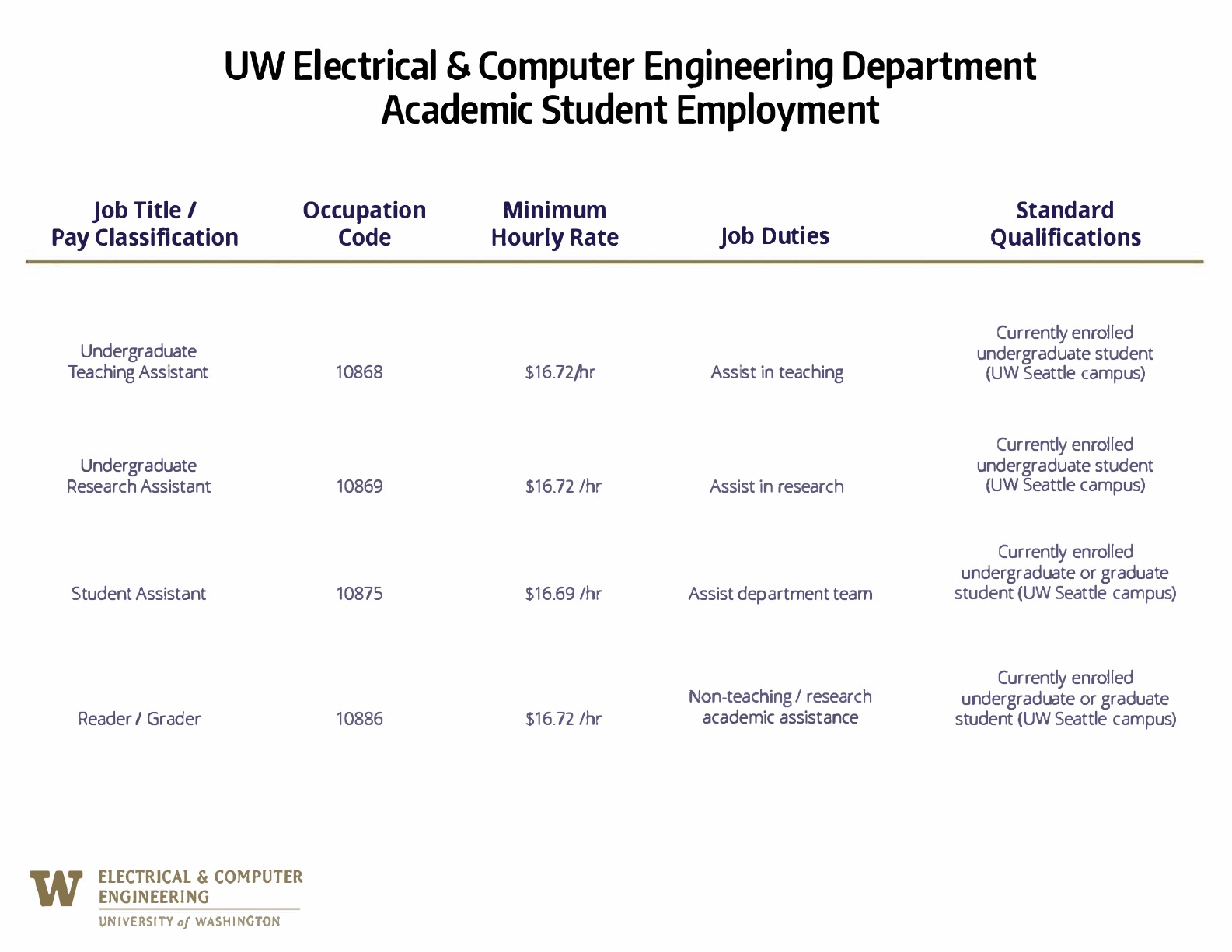 The UW College of Engineering and other departments may employ students with different job titles and at different pay rates.
See also UW Graduate School's TA/RA salaries.
---
Student Job Opportunities
Departmental Student Assistant
Student Assistant, Electrical & Computer Engineering – Click here for details.
Undergraduate Research Lab Assistants
Washington Nanofabrication Facility – Click here for details
More information about student employment can be found here.
---
Autumn 2020 Tuition Waivers
While tuition charges are now posted, financial aid will not disburse until Thursday evening, September 24. Waivers for eligible TA/RA/SAs and Fellows will not disburse until Friday evening, September 25.
 If a waiver has not been placed on a student account by the first week of classes, please verify the following before contacting Fellowships & Awards or Student Fiscal Services:
Ensure the appropriate appointment has been entered and fully approved in Workday. It typically takes about 2 business days for appropriate waivers to disburse once an appointment is fully approved.
Check that the student number in Workday is entered correctly (student can verify).
Check that the employee is a current graduate student registered for at least 10 credits.
Top Scholar Waivers, International Student Tuition Waivers, and General Tuition Waivers will be paid manually by the Graduate School starting the first week of autumn quarter. Please note that tuition is not due until the third Friday of the academic quarter: October 16. Please contact The Graduate School if you do not see an applicable waiver posted by Wednesday, October 14.
---
Internship Information Sessions
Upcoming
No upcoming internship information sessions
Previous
Tues. October 22, 2019  |  ECE 303 |  3:30 – 5:00 p.m.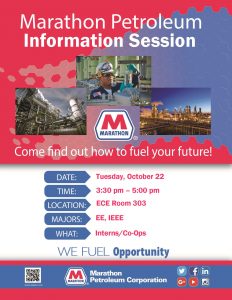 Download PDF:
Marathon Petroleum Internship Opportunity