UW EE capstones are the culmination of a student's electrical engineering education.  On Tuesday, May 30, we are proud to present our inaugural Capstone Fair, where students will present their projects to peers, industry professionals and faculty.
2017 Details
When
Tuesday, May 30
4:30 p.m. – 6:30 p.m.
Where
Project Examples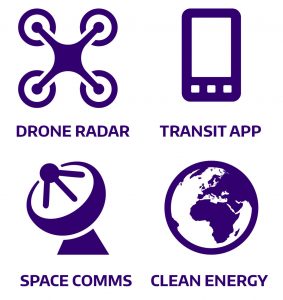 Companies Sponsoring the Entrepreneurial Capstones
Some of the students presenting their work during the fair are part of ENGINE — our Engineering Entrepreneurial Capstone program.  ENGINE projects are collaborative efforts made possible thanks to generous sponsorship from company partners.  Our 2017 sponsoring companies include: Blue Origin, Booz Allen Hamilton, dToor, Echodyne, Fluke, Fizikl, Millenium Space Systems, Nvidia, Plugable Technologies, Seattle Department of Transportation, Seattle Mountain Rescue, Tupl, UW Medicine, Voicebox and Wally Labs.
Parking and Map
For Industry Partners
Please refer to these parking instructions.
Campus Map
Please refer to the campus map and search for the Husky Union Building (HUB).
There will be signs in the HUB, leading to the event.
4:30pm–6:30pm, Tue, May 30th, 2017