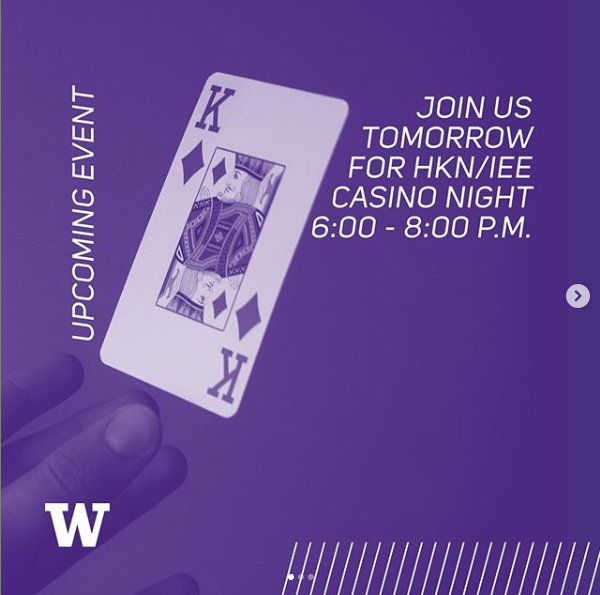 Casino Night, hosted by the student-run IEEE/HKN society, is a great opportunity for electrical engineering and computer science students and industry representatives to meet one-on-one.  With both casual gaming and designated time for recruitment, the evening is a fun, relaxed environment where professionals in the field can talk personally with students about their goals and interests.
This event is open only to undergraduate and graduate students from UW ECE and the Paul G. Allen School of Computer Science & Engineering.
Light food and beverages are provided. Excitingly, UW ECE faculty serve as the dealers!
Previous Years
2018
In 2018, Casino Night took place Thursday, Feb. 1, in Intellectual House.  Participating companies were: Allovus, Boeing, Ekos Corporation, ESI, Greenpoint and Nike.
2017
Casino Night 2017 took place on Tuesday, April 11, in the HUB. More than 100 students had the opportunity to mingle and chat with eight companies at Casino Night 2017.
2016
Casino Night 2016 took place on Thursday, Jan. 21, in the HUB. More than 80 students attended and eight companies were represented.