The Department of Electrical Engineering celebrated its graduating seniors Wednesday, June 6, in the Hec Edmundson Pavilion. There were 22 students receiving a doctorate, 86 receiving their master's in science degree and 195 receiving a bachelor's in science degree.
Jeremy Jaech, the chair of the UW Board of Regents for 2017-18 gave remarks at the ceremony and spoke of some of the department's innovative impact on Washington and in Seattle.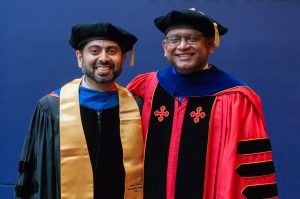 Alum Sal Dhanani (BSEE '96), co-founder of Telenav, delivered the graduation address, offering career and life advice to the department's graduates.
Professor and Chair Radha Poovendran recognized some of the department's Golden Huskies—alumni from the Class of 1968—that attended the graduation ceremony. Dr. Ward Helms, Tom Jones, John Linn, Jack McNees, Jack Miller, Tom Skarshaug and James Wilson were honored for their work as engineers and for the mentorship of engineers following in their footsteps.
The entire video of graduation is now available. Checkout more graduation photos here.