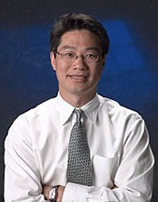 Dr. Andrew T. Yang is returning to the department as the 2012 graduation speaker. UW EE's graduation ceremony will be held on Friday, June 8th, 7-9pm in Kane Hall 130.
Yang's distinguished career as a tenured faculty member was marked by his recognition as a National Science Foundation Young Investigator and a member of the Chair's Circle of Excellence. Students honored his success as a teacher with the Professor of the Year award.
After his successful research and teaching career at the UW, he became a celebrated serial entrepreneur, lead investor, and senior advisor for a group of successful technology companies. He founded Anagram, currently serves as president of Apache Design of which he is co-founder, and he is the general manager of Ansys.
Professor Emeritus Greg Zick, the department chair during Andrew's tenure at UW EE, remembers Dr. Yang's entrepreneurial spirit. "Andrew Yang was a talented and driven researcher. He was able to combine his success in research with a strong sense of business to achieve success. Andrew is an excellent choice for graduation speaker as he has a wide range of experience to share with the graduating students."
Former colleague and department chair, Leung Tsang recalls Yang's affinity for mentorship. He encouraged his students to innovate and design creative solutions. "When Andrew was an EE professor, he trained and supervised several PhD students who later started their own companies."
Dr. Yang has maintained a strong and supportive relationship with UW EE. Howard Chizeck, former EE chair recalls, "When I arrived at the UW in 1998, Andrew was on leave in industry. After his great success there, we discussed his possible return to the department. Although he could not be convinced to return to his role as professor, he expressed a great passion for helping students to pursue their dreams. He established the Yang Award for this purpose—to recognize outstanding researchers at a crucial stage, when the achievement of such recognition could best help them in the next step of their careers."
Yang has continued to be a mentor and guide for the up and coming UW entrepreneurs including current chair, Vikram Jandhyala. "When I joined the UW, Andrew had already left to become a highly successful entrepreneur. When I founded a startup in 2006, I was fortunate to interact directly with Andrew and gained a deeper understanding of his influence and stature in the high-tech startup world. He is an exceptionally successful and respected technical founder and CEO. It is a great pleasure and honor that we are able to have him as our graduation speaker. He is a superb role model for researchers and technical leaders at all levels."
The department is honored to welcome Andrew Yang as its graduation speaker and share his story with members of the class of 2012 and their families.