By Jackson Holtz, UW News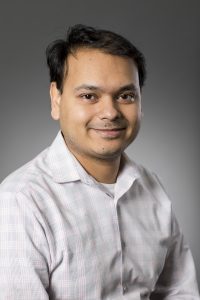 Arka Majumdar, assistant professor of electrical engineering and of physics, has been awarded an early-career fellowship from the Alfred P. Sloan Foundation. Open to scholars in eight scientific and technical fields — chemistry, computer science, economics, mathematics, molecular biology, neuroscience, ocean sciences and physics — the fellowships honor those early-career researchers whose achievements mark them as the next generation of scientific leaders.
The 126 Sloan Fellows for 2018 were selected in close coordination with the research community. Candidates are nominated by their peers, and fellows are selected by independent panels of senior scholars based on each candidate's research accomplishments, creativity and potential to become a leader in his or her field. Each fellow will receive $65,000 to apply toward research endeavors.
Majumdar, a researcher with the Molecular Engineering & Sciences Institute, is at the forefront of the interdisciplinary research that combines quantum materials and nanophotonics. His research attempts to store light in an optical resonator to study its tiniest components. Majumdar is setting out to build quantum systems using light that can mimic the interactions between electrons in many of today's technologies. That would pave the way for new materials and optical nano-structures that could revolutionize computing. Developing these technologies, however, can be very difficult.
"Our plan is to engineer new materials and new optical nanostructures to make photons interact with each other, which is a key element for performing computation with light, be it quantum or classical computing," said Majumdar.
In total five faculty members at the University of Washington have been named Sloan Fellows for 2018. The other fellows are Maya Cakmak, assistant professor of computer science and engineering; Jiun-Haw Chu, assistant professor of clean energy and physics; Jessica Werk, assistant professor of astronomy; and Chelsea Wood, assistant professor of aquatic and fishery sciences. Read the full news release about their research on the UW News website.
---
Article excerpted from the UW News Office's original release.