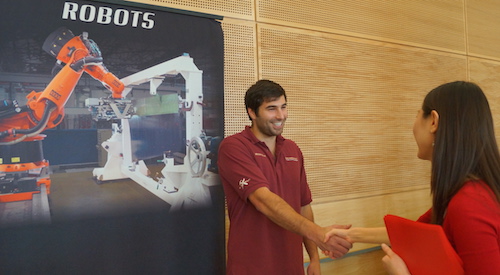 CarEEr Fair
Thursday, Oct. 8, 1-4pm
The HUB Lyceum
Calling all EE undergraduates and graduate students!Join us for our fourth annual Electrical Engineering Career Fair, taking place on Thursday, Oct. 8, 1-4pm. Students will have an opportunity to network with a number of companies and learn about upcoming job and internship opportunities.
HKN/IEEE Casino Night
Thursday, Jan. 21, 2016, 5-8pm
*Student check-in starts at 4:45pm
The HUB Lyceum
Our student-run society HKN/ IEEE hosts the popular Casino Night every January — an opportunity to socialize with other students, faculty and employers in a lively, non-traditional atmosphere. This informal setting serves as a place where students can feel comfortable asking potential employers more in-depth questions about the company's interests and operations, and vice versa. In past years, this event has resulted in many students receiving either a job offer following the completion of their degree, or obtaining an internship in a field of their interest. Throughout the night, door prizes will be raffled to students, which are generously donated by the companies in attendance. Casino Night is open only to UW-Seattle EE students. Student ID's will be checked at the door.
EE CarEEr Fair Networking Workshop: Networking for NewBs
Wednesday, Oct. 7, 5-6:30pm
EEB 303
In advance of the EE CarEEr Fair and HKN/IEEE Casino Night (both on January 20), EE Advisors will be offering a workshop on professional networking. For many students, face-to-face networking can be the most intimidating part of the job search process, yet it is an essential skill that will serve you well in your job search and future career. Please join us for a one hour presentation on networking do's and dont's to put your best foot forward at upcoming industry events as you begin building your career.
OCTOBER 2015 PARTICIPATING EMPLOYERS
JANUARY 2015 PARTICIPATING EMPLOYERS