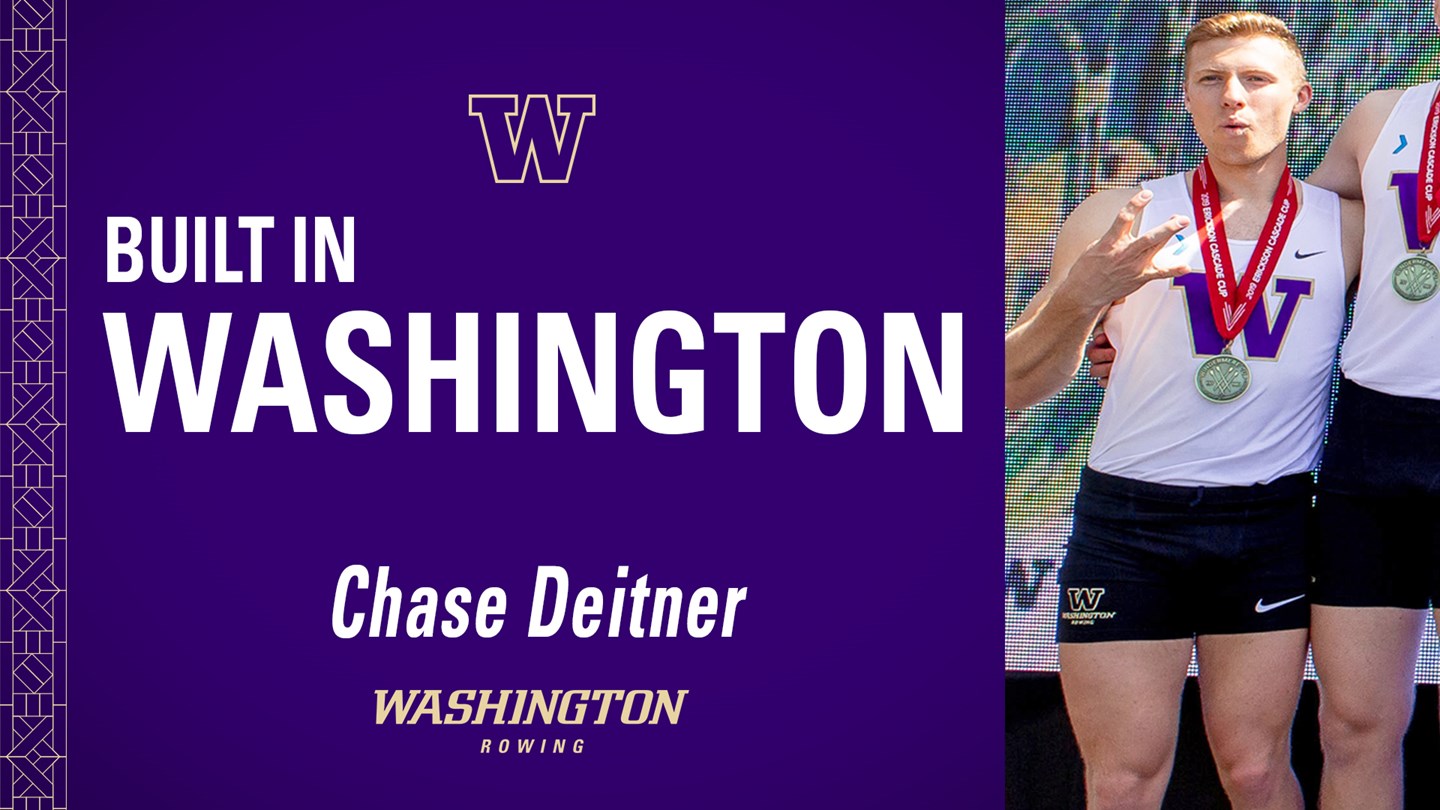 For Chase Deitner, competing and engineering are all part of his daily routine. From racing for UW's Mens Rowing team in "long pair races" in the morning, to taking electrical engineering exams during the day, and then running a stadium in the afternoon, Chase always finds himself striving to be the best.
Living in Perth, Australia as a teenager, Chase decided to study at the University of Washington for its strong, competitive engineering program.
"Both of my parents were engineers, so I knew I wanted to become one as well," recalls Chase.
"I knew UW had different engineering programs and it would be a good place for me to figure out what type I wanted to specialize in."
Chase had been rowing for his high school team for a couple of years, but because of his size and erg scores, he knew he would not be recruited at the college level. However, Chase loved the community and the competition that came with rowing, so he wanted to continue in college no matter what. His plan was always to walk-on to the team wherever he ended up.
"I had absolutely no idea how good the UW team was before coming here," Chase says. "All I knew was they were a Division I school, but I didn't really know what that meant either."
So, Chase showed up to the UW men's rowing team tryouts with dozens of other guys who were much bigger and stronger than him.
"The tryouts were the most challenging, stressful and competitive two weeks I had ever gone through," he recalls.
In his third year on the team now, Chase has raced at the Pac-12 championships twice, once at the IRA championships and once at the World Rowing Under-23 Championships, where he won the bronze medal in the men's lightweight quad sculls in 2018.
Aside from his success on the water, Chase also has the team's highest GPA as an electrical engineering major. Chase chose that particular major because of how competitive the application and acceptance process is.
"I really enjoy the competitive aspect of my major," Chase says, "I enjoy learning too, but the competitiveness that comes with the work, problem-solving, and exams is what makes it fun."
Whether it's a race on the water or a midterm exam, Chase likes to win. While staying competitive, Chase has found that the best way to manage, succeed and enjoy everything he does is to stay focused and present.
"I try to be where I am at all times, whether I am studying, erging, racing or hanging out with friends, I try to commit a hundred percent of my time to that one moment," says Chase, "and that makes everything much more effective, and also more enjoyable."
Rowing has taught Chase how to enjoy the competition and to always try to perform at his best, both on and off the water.
This story was originally featured in UW Rowing's "Built In Washington" series by women's team varsity coxswain Marley Avritt.