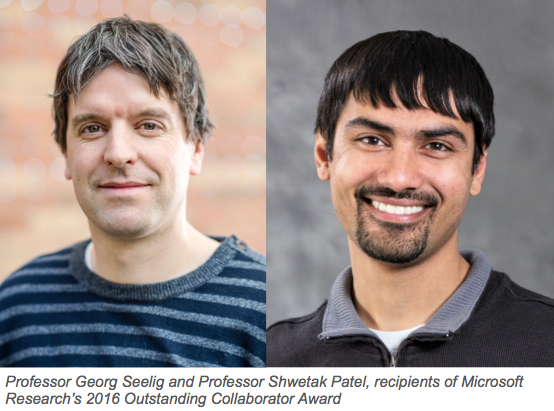 Electrical engineering professors, Dr. Georg Seelig and Dr. Shwetak Patel, received the Microsoft Research's 2016 Outstanding Collaborator Award. The award highlights and celebrates the amazing academics who have worked with the company on research initiatives.
Since its founding in 1991, Microsoft Research (MSR) is dedicated to a model of open collaboration with academia. For Seelig and Patel, this partnership has turned into a sizable portfolio of research projects.
Most recently, Seelig's work on DNA storage with MSR and the UW's Department of Computer Science and Engineering has gained international recognition for stretching the limits of previous research. MSR commends the long-term significance of this collaboration, noting that next steps will involve implementation for disease detection and diagnosis.
Patel's partnership with MSR is deep-rooted, beginning when he entered the University of Washington and with his Microsoft Research Faculty Fellowship. Patel has steered several research and leadership initiatives with MSR, including the groundbreaking development of the UW-Tsinghua-Microsoft Global Innovation Exchange. He's demonstrated a deep dedication to student enrichment by sending over 10 of his UbiComp Lab students to MSR for internships.
Congratulations to Computer Science and Engineering Professor Ed Lazowska for also receiving an MSR Outstanding Collaborator Award. Lazowska is honored with the award for his continued dedication to the impact of research and development of collaborative initiatives.