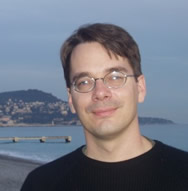 EE Associate Professor Eric Klavins has been awarded the 2014 Faculty Innovator: Teaching and Learning award from the College of Engineering. The Faculty Innovator Award in Teaching and Learning is presented annually to engineering faculty to who demonstrate innovative and lasting contributions to engineering education, possess a high-level commitment to students both in and outside of the classroom, and show evidence in improving education.
The Community of Innovators Award ceremony will take place on May 15, 2014 in the Microsoft Atrium of the Paul G. Allen Center for Computer Science & Engineering.
Congratulations Eric!
More Information
COE Community of Innovator Awards
Eric Klavins' faculty page