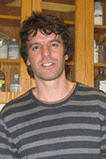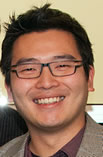 EE and CSE Assistant Professor Georg Seelig and EE Adjunct faculty member Adrian KC Lee are recipients of the 2014 Office of Naval Research (ONR) Young Investigator Award. Seelig and Lee are two of the 24 early-career academic researchers to receive this year's prestigious 3-year Office of Naval Research Young Investigator Award.
Seelig's research focuses on understanding how biological organisms process information using complex biochemical networks and how such networks can be engineered to program cellular behavior. Their research group identifies systematic design rules for the de novo construction of biological control circuits with DNA and RNA components, and integrates the design of molecular circuitry in the test tube and in the cell with existing biological pathways like the microRNA pathway. Engineered circuits and circuit elements are being applied to problems in disease diagnostics and therapy.
Lee is an EE Adjunct faculty member and Assistant Professor of the UW Speech and Hearing Sciences Department. He is also the Director of the Laboratory for Auditory Brain Sciences and Neuroengineering at the University of Washington's Institute for Learning & Brain Sciences (I-LABS). Lee's lab focuses on capturing brain cortical dynamics associated with auditory attention. The long-term vision of his laboratory is to create a revolutionary assistive hearing device that will selectively amplify sound based on listener intent via a brain-computer interface.
More Information
ONR 2014 Young Investigator Program winners announcement
Georg Seelig's faculty page
Adrian KC Lee's faculty page