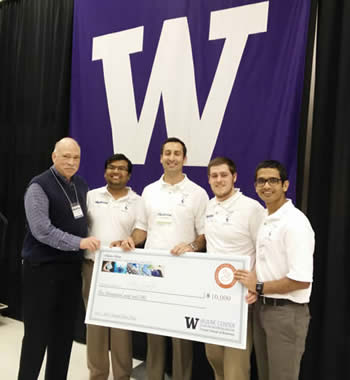 With a name like Hook, it's no surprise that a new device that converts older home appliances into smart gadgets is catching attention. Founded by UW EE graduate student Rahil Jain, Hook received the $10,000 second place prize at the Alaska Airlines Environmental Innovation Challenge at UW on April 2.
"We have been working on this for over a year now. Even though, we were pretty confident of our demo, we soon realized that the competition was really strong," Jain said. "So, yes we are a little surprised."
Hook is a home automation hub that allows customers to convert existing home devices to smart gadgets. Internet-connected appliances and lighting decrease energy consumption and improve home safety. By converting existing appliances into smart devices, Hook keeps them from being unnecessarily discarded and contributing to landfills. A single Hook plugged in to a power source on the main floor of a residence can control RF and WiFi-enabled devices throughout the home. For example, Hook empowers a standard yard sprinkler to turn on only when it hasn't rained for three days and automatically turns on holiday lights when the sun sets. This is the first funding received and the team plans to use it to fund fixed costs such as equipment. Hook will be available for pre-order in May 2015.
The Hook team includes Robert Moehle, an MBA student in the Foster School, Maxwell Wheeler, a mechanical engineer and research scientist in the Bioengineering Department and a fourth member who is a professional software developer. The Hook team is now preparing for a Business Plan Competition and has launched aKickstarter campaign.
See Also: