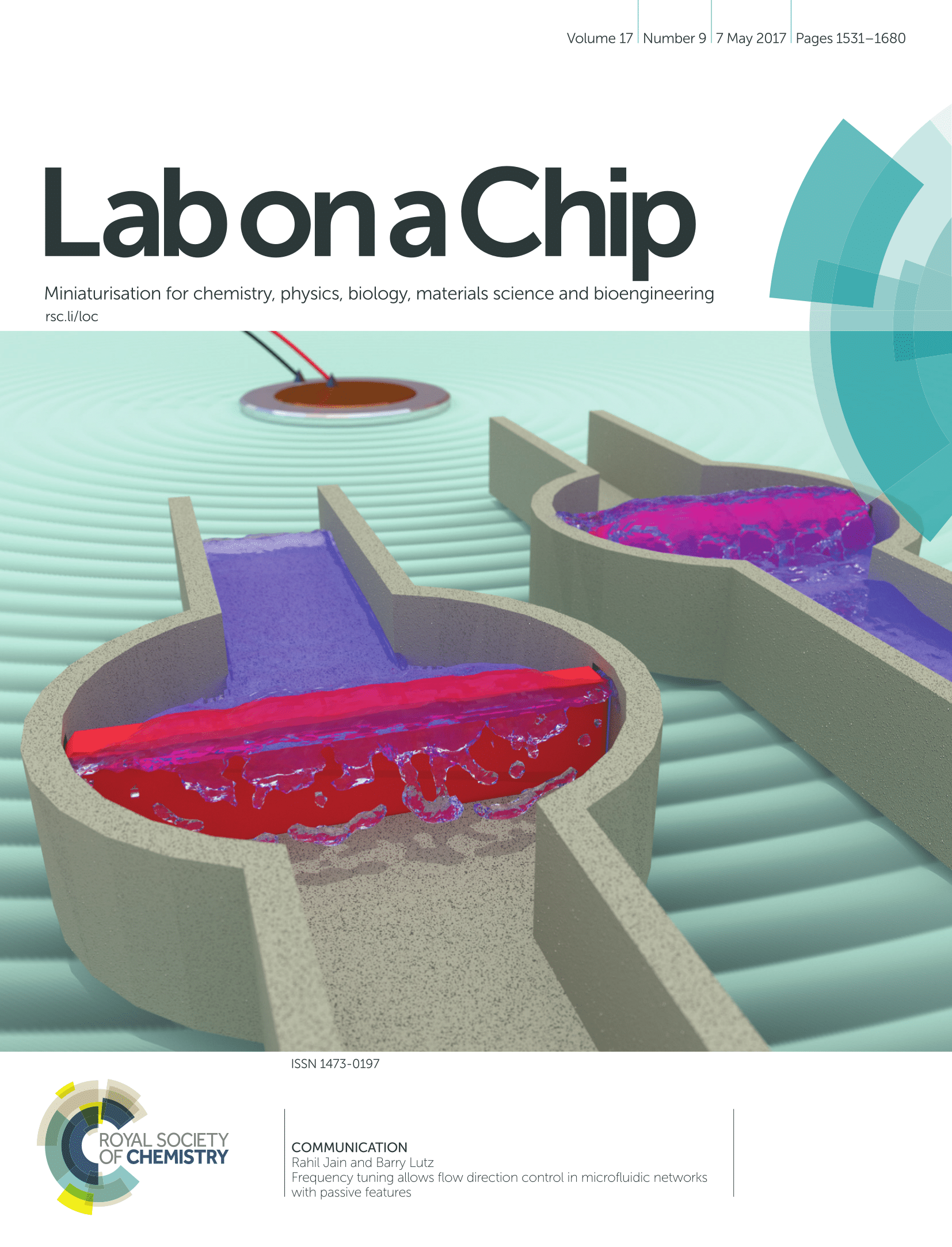 By: Tommy Merth
In addition to establishing his own company and developing smartphone applications, UW EE Ph.D. student Rahil Jain has pioneered new diagnostic technologies during his graduate studies. One of his recent publications, titled, "Frequency tuning allows flow direction control in microfluidic networks with passive features," was featured on the front cover of the Lab on a Chip journal. In it, Jain describes how cell phone audio can be used to control the chemical reactions necessary for diagnostic testing devices.
"During this work, I stumbled upon something astonishing. Not only can you turn the flow on or off by changing the frequency, but you can also change the direction of the flow," Jain said in an interview with the UW Bioengineering Department. "This finding led to the development of a bi-directional pump, and we can use these pumps to create highly concentrated reaction mixes by moving fluids back and forth over the pre-dried reagents."
Although this area of research is not encapsulated by electrical engineering, Jain applied concepts from electrical engineering to advance his group's understanding of the problem.
"Microfluidic devices can be modeled as electrical circuits, and as an EE guy, I know how to make good circuits," he recounts in the same interview. "Dr. Lutz [from Bioengineering] realized that I could translate this knowledge to help advance the research, and was happy for someone to bring a different perspective to the project. It was a really good fit, it had health care applications and an EE flavor."
Post-graduation, Jain will focus almost entirely on his startup, Hack-a-Joe Labs, which already has two major products in developments. Hook is a smartphone application that allows homeowners to budget and monitor energy usage. Further, Airy is a wireless, battery-less, home security system that uses custom generators to detect potential break-ins.
"One of the things that gets me out of bed every day is to see someone using something that I created," Jain said in the article. "My research is exciting, but far from getting out to the market. That's the nature of health care; devices must go through regulatory processes and testing. I wanted to use my skill set to get something out to the market quickly."
Both of these products have brought Jain success at the annual UW Business Plan Competition, a student start-up competition against students across the state. In late May, Jain was awarded the $5,000 Xevo "Internet of Things" Big Prize as a finalist for developing Airy.
—–
This news was adapted from an article presented by the UW Department of Bioengineering.