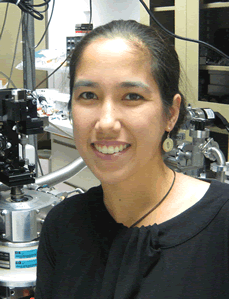 Kai-Mei Fu, assistant professor of UW EE and Physics, has received a 2012 CAREER award from the National Science Foundation. Her proposal is titled, "A 'holistic' approach toward scalable quantum optical networks in semiconductors."
CAREER awards are aimed to support junior faculty who "exemplify the role of teacher-scholars through outstanding research, excellent education and the integration of education and research." Through this work, Kai-Mei's group will investigate a new quibit system for realizing an optically connected spin network for quantum information applications. More information about the award can be found on NSF's website.
Congratulations Kai-Mei!
More Information
The Optical Spintronics and Sensing Lab
NSF CAREER AWARD Abstract