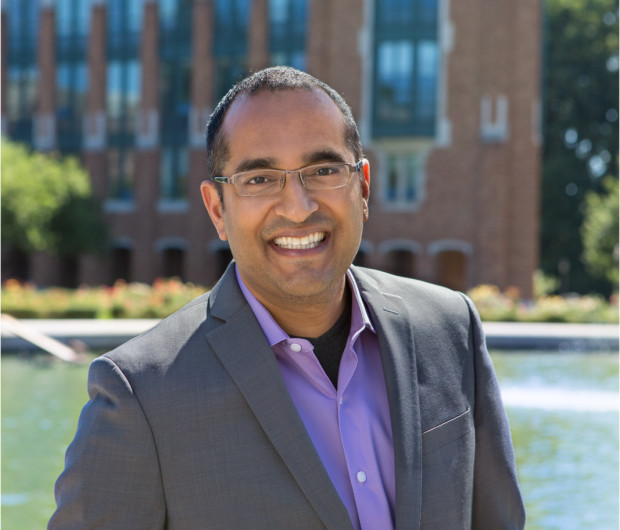 Dear ECE Community,
It is with deep sadness that I am sharing the news of the passing of our dear friend and colleague, Vikram Jandhyala. Vikram was an important member of our faculty for over 18 years, as well as an innovative pioneer within the university.
We were fortunate to witness Vikram evolve and grow into an impactful leader. As chair of our department, he paved the way for our name change and as the UW VP for Innovation and Strategy, helped ECE with programs like ENGINE. His students are well placed in industry and academia thanks to his dedication to teaching and mentoring. Vikram put excellence at the forefront of his work and thanks to his efforts with CoMotion and Global Innovation Exchange, the UW is consistently recognized nationally for innovation. Indefatigably, he accomplished all of these things with great compassion and empathy for his colleagues and partners.
Vikram was a champion of universities, striving to make entrepreneurship a part of higher education across all disciplines. His passion created opportunities for our students, faculty and community at large to come together and share knowledge and ideas across all fields of study.
We will all experience this terrible loss in different ways, and I ask that we come together as a community to support each other with compassion and kindness during this challenging time, and always.
If you or someone you know needs help processing this loss or is currently struggling with thoughts of suicide – please make full use of our support and resources and encourage others to do the same.
If you would like to share a memory of Vikram or support his two sons, ages 7 and 5, who will be cared for by their mother, Suja Vaidyanathan, his family asks that you do so at the memorial site they have established. Details on a celebration of his life will be forthcoming.
Sincerely,
Radha Poovendran
Professor and Chair of ECE
GeekWire's coverage of the Celebration of Life for Vikram.
Vikram's Celebration of Life is at 4 p.m. on Thursday, May 9, in the HUB Ballroom. It will also be livestreamed here for those that cannot make it.
Please read UW President, Ana Mari Cauce's tribute to Jandhyala.
The Paul G. Allen School of Computer Science and Engineering also paid tribute to Jandhyala.
GeekWire also wrote his life and legacy.