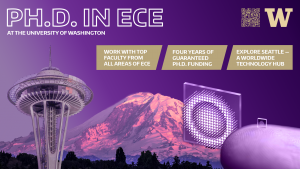 Want to further your education, start a research career and invent the next life-changing technology? Earn a Ph.D. in electrical and computer engineering at the University of Washington!
Our Ph.D. program prepares students to impact the future and address challenges in IT, healthcare, energy, the environment, communication and more. Do incredible research with distinguished ECE faculty in the vibrant Pacific Northwest city of Seattle! Diverse applicants from ECE, computer science, math, physics and other disciplines welcomed. Four years of guaranteed funding for all admitted candidates. GRE not required. Applications are currently open and close on December 15, 2022. Application waivers available. For questions regarding eligibility, please email grad@ece.uw.edu.
Learn more about the program and apply here!