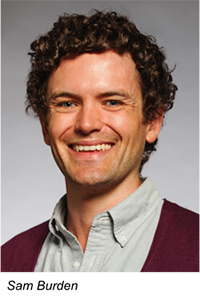 Assistant Professor Sam Burden has been honored with an Army Research Office Young Investigator Program (YIP) Award, one of the most prestigious awards the army grants to early career researchers and scientists. YIP awards specifically support research in areas relevant to the Army and are intended to encourage careers in teaching and research.
The three-year award will support Burden's research to develop mathematical models that can be used to design and control robotic movement. The dexterity with which current legged robots move leaves much room for improvement, which Burden intends to address by applying principles from nature, particularly how animals move. By closing the gap between the remarkable locomotion capabilities observed in nature and those that engineers build into legged robots, Burden's research will not only advance the capabilities of robots, but also has applications to developing better assistive devices that enhance the quality of life for the elderly or disabled.
Burden joined UW EE in fall 2015 and co-directs the BioRobotics Lab, where he researches sensorimotor control in dynamic and dexterous robots, neuromechanical motor control and human-cyber-physical systems. Burden is also co-director of the nascent UW Laboratory for Analysis of Motion and Performance, which is anticipated to be operational in fall 2016.
See Also: