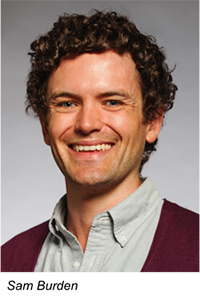 Assistant Professor Sam Burden has been honored with a Research Initiation Initiative Award from the Cyber-Physical Systems Program in the Computer and Information Science and Engineering Directorate of the National Science Foundation. The two-year award provides early-career investigators with resources to recruit their first graduate students and initiate research projects.
The award supports Burden's work to improve the performance and safety of robotic systems. With machines and humans increasingly working together to complete various tasks, from robot-assisted surgery to flying airplanes, it is critical that people can easily control dynamic robotic systems.
Burden aims to achieve this by developing better closed-loop systems, where data flows both ways between a human and robot, resulting in enhanced performance, safety and resiliency. The ultimate goal of Burden's proposed research is to pave the way for provably safe teleoperated robots that can provide reliable services in various fields, such as transportation, manufacturing, medicine and emergency response.
Burden joined UW EE in fall 2015 and co-directs the BioRobotics Lab, where he researches sensorimotor control in dynamic and dexterous robots, neuromechanical motor control and human-cyber-physical systems. Burden is also co-director of the nascent UW Laboratory for Analysis of Motion and Performance, which is anticipated to be operational in fall 2016.
In a closed-loop system, data flows two ways between the human and robot for enhanced performance. Burden's research works toward engineering these systems to be safe and stable.