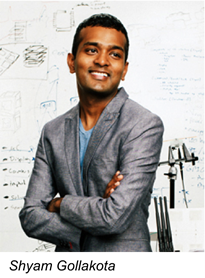 EE Adjunct and CSE Professor Shyam Gollakota was honored with the 2015 World Technology Award in Communications Technology. Out of 39 nominees, six of which were finalists, Gollakota received the top honor.
Gollakota accepted the award at the culmination of the World Technology Summit & Awards Gala on November 20 in New York City, attended by science and technology innovators from around the world. Winners are inducted into the membership of the World Technology Network, joining more than 1,000 members from around the world.
Gollakota leads the Networks and Mobile Systems Lab and works on various topics including computer networks, user interfaces and mobile health. He earned his M.S. and Ph.D. degrees from the Massachusetts Institute of Technology and his B.Tech. degree from IIT Madras.
Recent honors and awards that Gollakota has received include being appointed a CoMotion Presidential Innovation Fellow, receiving a 2015 NSF CAREER Award and Alfred Sloan Research Fellowship and being named to Forbes' 30-under-30 list for his work in the energy industry.
Congratulations, Shyam!