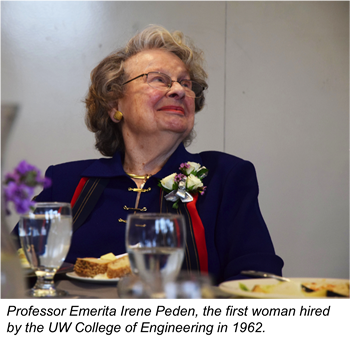 The UW EE community celebrated the 90th birthday of Professor Emerita Irene Peden on Friday, October 2. More than 25 of Peden's former Ph.D. students, colleagues and friends gathered to celebrate not only Peden's birthday, but the culmination of a successful fundraising campaign to establish an endowed fellowship for electrical engineering women in Peden's honor.
"What is important about Irene and other trailblazers is how life is easier for the women who follow them," said Eve Riskin, EE Professor and Associate Dean for Diversity & Access.
A trailblazer for women in engineering, Peden was the first woman to receive a Ph.D. in engineering from Stanford and was the first woman hired by the UW College of Engineering in 1962. She was also the first woman engineer/scientist to conduct field work in the interior of the Antarctic continent as a Principal Investigator in 1970. Peden is one of only two UW EE faculty admitted into the National Academy of Engineering in the past 100 years.
Thanks to Peden's efforts, UW currently leads the nation in women engineering faculty with 22% women faculty. The national average is 14.5%.
"I was the first fellow and it was such a big honor," said Tamara Bonaci (Ph.D. 2015), the first Irene Peden Fellowship Fund fellow. "In 2012 I had the honor of meeting Dr. Peden. The questions she asked me made me go back to my research and be more bold."
See Also: