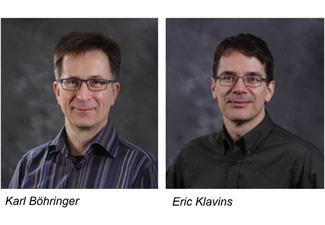 Of 11 CoMotion Innovation Fund Awards granted to cutting-edge projects with promising impact, two awards fund EE Faculty member projects. Congratulations to EE Faculty members Karl Böhringer and Eric Klavins!
As part of the annual awards, teams must compete for funding by pitching their project idea to a panel comprised of venture capitalists, senior executives, WRF staff and CoMotion staff. Each of the 11 projects will receive $50,000 in funding, which is intended to help take newly developed products from the research lab to the market.
The following two projects will receive funding:
Implantable Eye Sensor: EE Faculty member Karl Bohringer, who has a dual appointment in Bioengineering, is leading a research team designing a passive sensor to monitor glaucoma. The sensor would be embedded during surgery with an artificial lens, to detect pressure changes and transmit data wirelessly.
Aquarium Lab in the Cloud: EE Faculty member Eric Klavins is leading a team that has developed an operating system that enables biotechnology labs to easily develop and share instructions for specific lab experiments.
Congratulations to Karl and Eric!