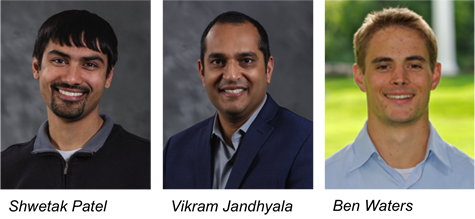 UW EE will be well-represented at the upcoming University of Washington Innovation Summit in Shanghai on Friday, November 13, 2015. Of eight keynote speakers and innovators, three are from UW EE: Professor Vikram Jandhyala, EE & CSE Associate Professor Shwetak Patel and Ph.D. student Ben Waters.
Featuring researchers and leaders from UW and China, the Innovation Summit builds on the recently established partnership between UW and Tsinghua University, theGlobal Innovation Exchange. The Innovation Summit will bring together leaders in innovation to share ideas and drive innovation that has the ability to impact the world. Thomson Reuters recently ranked UW #4 in the world for innovation in 2015. UW EE is a leader in entrepreneurship efforts across campus, with the largest number of start-ups.
Shwetak Patel
EE & CSE Professor Shwetak Patel, who is a Washington Research Foundation Entrepreneurship Endowed Professor, directs the UbiComp Lab. Patel's research focuses on developing new sensing systems, mobile health and new interaction technologies. Patel is the cofounder of two companies, Zensi Inc. and SNUPI Technologies.
Vikram Jandhyala
EE Professor Vikram Jandhyala is the UW Vice Provost for Innovation and Executive Director of CoMotion, UW's collaborative innovation and technology transfer hub. Jandhyala directs the Applied Computation Engineering Lab and is the founding director of the UW-PNNL northwest institute for advanced computing.
Ben Waters
EE Ph.D. student Ben Waters cofounded a start-up called WiBotic with Professor Joshua Smith in the Sensor Systems Lab. WiBotic is a wireless charging system specifically for robots, which alleviates the need for robots to be plugged in or dock in a specific place.