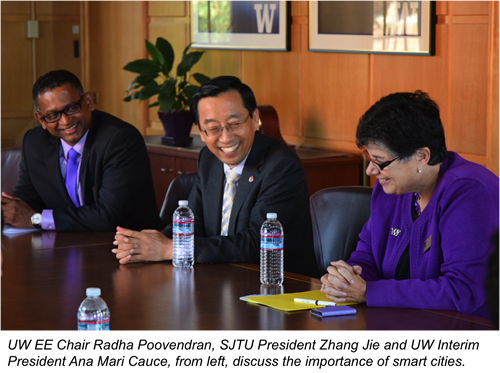 EE Chair Radha Poovendran, together with UW Interim President Ana Mari Cauce, signed a "Smart Cities" agreement today with leaders from the School of Electrical Information and Electrical Engineering at Shanghai Jiao Tong University (SJTU), including SJTU President Zhang Jie.
EE Professors Jenq-Neng Hwang, Sumit Roy and Vikram Jandhyala, who is the UW Vice Provost for Innovation and Executive Director of CoMotion,were part of the UW Delegation that attended the agreement signing.
The agreement formalizes the commitment of both universities to work together on smart cities research, teaching and collaboration. According to the agreement, the leaders will explore establishing an International Joint Research Lab to develop smart cities technology.
To create smart cities, technology is utilized to enhance the performance of cities. Smart city innovations use data analytics, sensors and other technology to create solutions to problems such as air quality, transportation, energy conservation and more.
See Also: