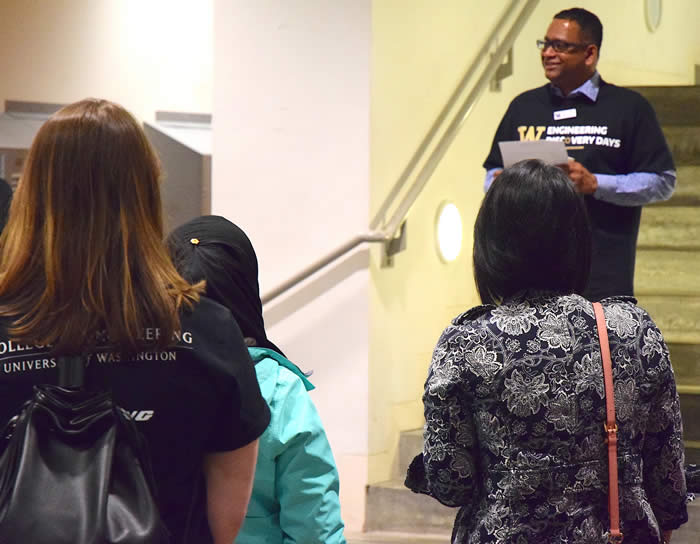 The UW EE Community celebrated our alums this weekend at Discovery Days on Saturday, April 23, 2016. Engineering Discovery Days is a two-day event sponsored by the College of Engineering allowing students and faculty from all UW Engineering departments to share their work with students and teachers from area schools, families and the community.
We were thrilled to host our UW EE alums and their families for breakfast on Saturday morning. More than 80 alumni attendees and their family members were in attendance.
"We are delighted to have had alumni and their families join us for the event this past weekend," said UW EE Chair Radha Poovendran. "We were excited to create a forum to allow families and alumni to mix together casually and hear about great new things happening in the department."
Poovendran presented an update about UW EE's exciting new engineering entrepreneurial capstone courses, and also provided information about the effort to change the department name to correctly reflect UW EE's computer engineering efforts.
UW EE is continuing to plan alumni gatherings both in the Seattle region and in other areas of the country.  "I am personally looking forward to having more alumni events to closely connect the department and the community," Poovendran said.
Thanks to our UW EE alums for coming out and connecting with us this weekend! We hope to see you again next year for this fantastic annual gathering.
You can view the full photo album from this event on Flickr.