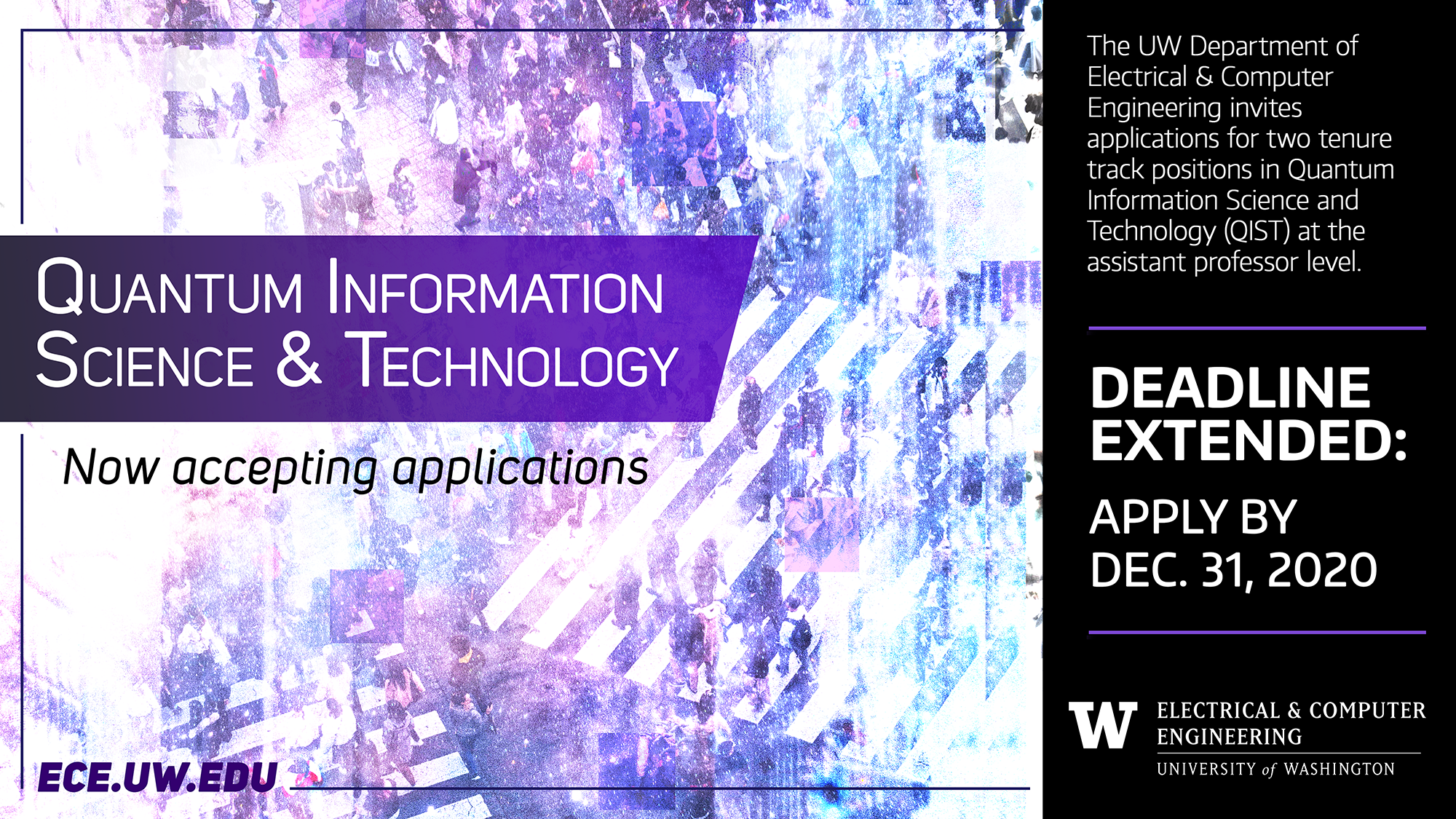 UPDATE: Deadline extended to December 31, 2020
The University of Washington Department of Electrical & Computer Engineering (UW ECE) invites applications for two full-time, tenure-track faculty positions at the rank of assistant professor. Candidates making connections between QIST and data science, circuits, devices, controls, computer engineering, information theory and other existing efforts in the ECE department are particularly encouraged to apply, but all areas of QIST will be considered. The positions are multi-year appointments with 9-month service periods with an anticipated start date of September 1, 2021. Applications must be submitted by December 1, 2020 to receive full consideration.
UW ECE offers an innovative, collaborative and inclusive environment in which our faculty and students succeed at finding impactful solutions to today's challenges. The Seattle area is particularly attractive given the presence of significant industrial research laboratories, top technology companies, as well as a vibrant technology-driven entrepreneurial community that further enhances the intellectual atmosphere. We look forward to learning how the applicant's experience or future plans for teaching, research and service would support our commitment to diversity and inclusion.
Qualifications
Applicants for tenure-track and tenure-eligible positions must have earned a doctorate (or foreign equivalent) in electrical engineering, computer engineering, applied physics or related field by the date of appointment.
View UW ECE QIST flyer |  Learn more and apply via Interfolio >
---
The new UW ECE positions are supported by a UW College of Engineering (COE) cluster hiring initiative in QIST, which also includes a new faculty hire in the UW Department of Mechanical Engineering (ME), while new Paul G. Allen School of Computer Science and Engineering (CSE) hires in QIST will be closely aligned with UW's community of QIST researchers.
"Our vision is for UW to have expertise across the full quantum stack," said Kai-Mei Fu, UW associate professor of electrical and computer engineering (ECE) and physics and co-chair of UW's interdisciplinary QuantumX Initiative. "Our future colleagues in ECE, ME, and CSE will help UW address the key QIST engineering challenges of performance and scalability. We want to help develop a Quantum Silicon Valley in the Pacific Northwest, and we want UW to be the #1 place in the world for students to come and build their skills in QIST."